Chelsea goalkeeper Petr Cech says his teammates must face up to adapting to the tactics employed by Rafa Benitez or face leaving the club.
The Spanish boss took charge of his first game as interim manager in the goalless draw with Manchester City on Sunday, following the sacking of Roberto di Matteo after the mid-week Champions League defeat to Juventus.
And Cech admits the Chelsea squad must adapt to Benitez's ideas for the remainder of the season of fear facing the axe at Stamford Bridge.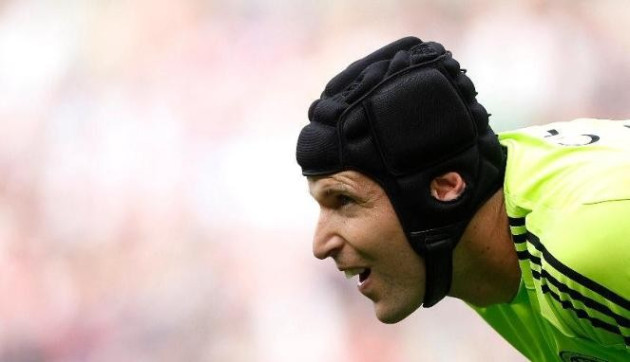 "You adapt or you're out," Cech said. "It's as simple as that.
"You're here to play, you're here to do what the club and manager wants you to do. If you don't like it, you can leave.
"If you stay sad and don't do the right things, you can end up on the bench and you're not playing and it will be even more disappointing. As a player, you need to do the right thing all the time."
Benitez's appointment has been met with an angry reaction from the Chelsea faithful, with many unwilling to overlook his criticism of the club during his days as manager of Liverpool.
His two-year spell out of the game and his continued use of the zonal marking system are other gripes the Blues support have with Benitez, but Cech says it is down to the players to change the opinion of the fans.
"It is up to us to have a good run of results for them to change their minds," Cech said. "The manager surely deserves to have a chance and it's up to us to make things happen and make the fans happy."
Meanwhile, summer signing Cesar Azpilicueta says Chelsea's first clean sheet in 11 games is a major confidence boost for the back-four.
"It's important to keep clean sheets. As a minimum you have one point, and offensively we have good players so we will have good chances but the first thing is to defend together, play well defensively and after to do a good job offensively," the Spaniard said.
"The problem we had before was that we conceded a lot of goals, a lot of chances, so this is the first thing to resolve and now to adapt Rafa's methods and stay together, and be focused in our work.
"He has a different method to work so we have worked a lot in the last days with him, defensively, to know how he wants to play. It's important that we kept a clean sheet and stayed together, played as a team.
"It's the most important job for a defender when you play against City. We needed to keep concentrated. They arrive a lot of times next to the box so you can't make a mistake."