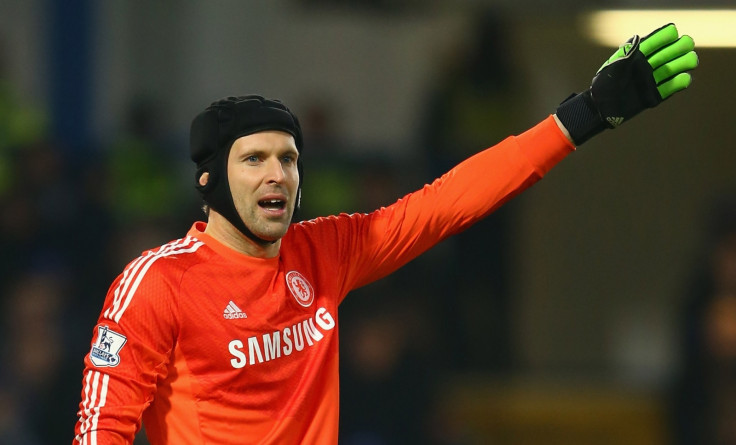 Chelsea goalkeeper Petr Cech has confirmed that he will not accept being the Thibaut Courtois understudy next campaign, telling Jose Mourinho that even though the partnership with the Belgium international is working well it "can work no more than one season".
The 32-year-old international lost the number one role ahead of Courtois since the Belgium returned to West London this summer following a successive three year loan spell at Atletico Madrid.
The Czech international accepted the challenge to battle for a starting role with the Belgium this summer but after having started only four Premier League games this campaign he has now admitted that Mourinho will have to decide whether to keep him or Courtois this summer.
"I don't know what the club's idea will be. It looks like it works well with me and Thibaut as a duo this season. But that can work for one season only. I don't want another one like this," Cech said to ISport.
"We'll see what comes in the summer. But as I have said throughout this season. It is clear that I want to play more."
During the January transfer window the keeper was already linked with Arsenal, Liverpool, Paris Saint Germain and Real Madrid but instead decided to stay at West London.
Cech says that the January transfer window was not the right time to leave the club but asked about the future he insisted: "There always will be speculation, I leave it for the summer. It will be important to sit down with the club, with the manager, to consider all the pros and cons. We will see what will work out the best."
Mourinho recently rewarded his hard-work with a starting appearance in the League Cup final against Tottenham but when questioned whether he will try to convince Cech to remain at the west London club, Mourinho recently said: "Cech will make his decision and when he makes his decision he is very mature to make the best decision for him and for his future and I will just wait, wishing his decision is to stay.
"I would like him to stay but I don't lose my time trying to persuade him as nobody can persuade him. If he tells me he wants to leave I will tell him my opinion and it is that he is one of the best three goalkeepers in the world."
Meanwhile, Chelsea goalkeeping coach Christophe Lollichon has hailed the veteran keeper for how he is dealing with the situation although admits it is not an easy one.
"He's doing well. He's just won another trophy, his fourteenth in 10 years. Petr is doing well, even though his current situation is not that easy. We're talking about someone remarkable, with values, who is not going to hide away because he's lost his number 1 spot. He keeps working as if he is going to play every weekend."
"The decision to make Thibaut number 1 is the manager's. Then, if it's a question of rotation, we might discuss it. But above all, it's the manager's call. It helps to know early on as there are factors that need managing. He decides, we discuss it sometimes. Then we manage it during training."