British tourists on the Spanish coastal resort of Benidorm filmed a huge fish just yards from swimmers sparking fears of a shark attack.
Tourists were filmed swimming obliviously as a huge creature writhes just metres from the shoreline with the footage published to Twitter after the incident last week off Levante beach, on the Costa Blanca.
Reports of shark attacks have emerged from Spanish beaches further north near Valencia and also further south close to the Costa Del Sol, although shark attacks are extremely rare in the country.
British woman Julie Roberts was swimming in the sea when she spotted the fin of a giant 8ft fish, with two fins, on 14 September.
The 56-year-old told The Sun: "We looked over and could see two fins coming towards the shoreline. There was a snorkeller just feet away from this animal and he didn't realise. It was terrifying.
"There was another lady swimming on her own the other side and she was totally oblivious to what was going on.
"Everyone was shouting at her to try and get her attention and I have never seen anyone move quite so quick as she did when she realised. We didn't expect to see that in such shallow water."
Roberts, from Cheltenham, Gloucester, told the newspaper that there was "hundreds of people" nearby when the fish appeared and a red flag was raised on the beach to tell holidaymakers not to venture into the sea.
She continued: "Its tail was flapping around and it looked distressed, which wasn't nice to see.
"But then it managed to get itself back out to sea and all of a sudden it disappeared. It must have caught a wave and got taken back out again."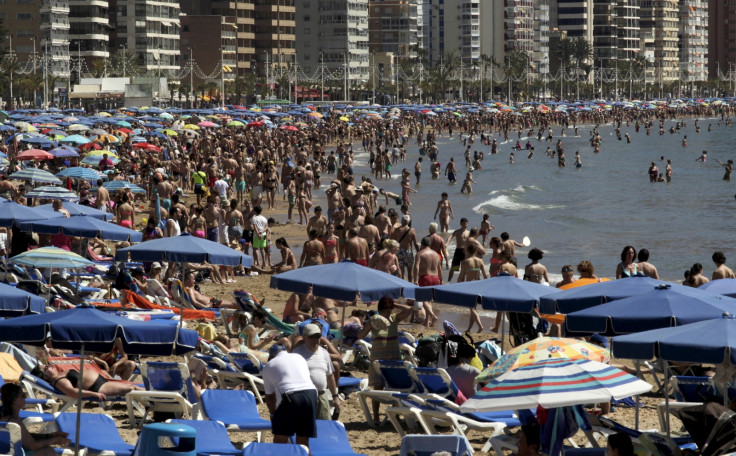 Despite the panic on the beach it has been reported by local press that the large fish was not actually a shark, as beachgoers feared, but a large tuna.
The Institute of Coastal Ecology told the diarioinformacion.com that tuna are common this time of year in the area and may have been looking for food.
There are many species of shark off the coast of Spain including thresher sharks, blue sharks and spinner sharks along with rays and angel sharks.
Earlier this month an 11-year-old girl at a Spanish tourist hot spot was taken to hospital after suffering a suspected shark bite on her foot.