Bale, Suarez or Van Persie: PFA Players' Player of the Year Award 2013 Predictions
Nick Howson - Luis Suarez
Temperament questionable, talent undeniable. World football's greatest players in the modern age have all been riddled with controversy. Paul Gascoigne, Eric Cantona, Zinedine Zidane; there isn't a player worth mentioning who hasn't been embroiled in a misdemeanour and it only adds to notion that while Luis Suarez's talent would see him slot into any Liverpool team of the last century; not least any side currently in the global game, the facinating human element still remains.
And perhaps that is what makes him so infectiously likeable. Suarez's style of play is too direct, too foolhardy that it would be better suited to a playground than a top flight football match. He doesn't require flicks, stepovers, twists and turns to decisive his opponents; unbridled commitment and desire someway departed from an overemphasis on technical ability; they are the components of the Uruguayan's success. It could have been any of us.
Evidence of how Suarez's impact on Liverpool's season has outstripped any of his rivals for the award will be made implicitly obvious during the closing weeks of the season during the 26 year old's absence. Each of his 23 Premier League goals have been near pictures, accompanied by their own variety and hallmark. From the exquisite touch against Newcastle United to the deftness of his finish against Tottenham Hotspur, Suarez has the capacity for every type of goal.
Rarely does a Brendan Rodgers press-conference go by without the Northern Irishman stating he requires new recruits, nor without heralding the talents of Suarez; and the two are intrinsically linked. To label Liverpool a one-man team is not to insult them, Rodgers admits he need new faces, but it is to only partially do justice to Suarez's influence.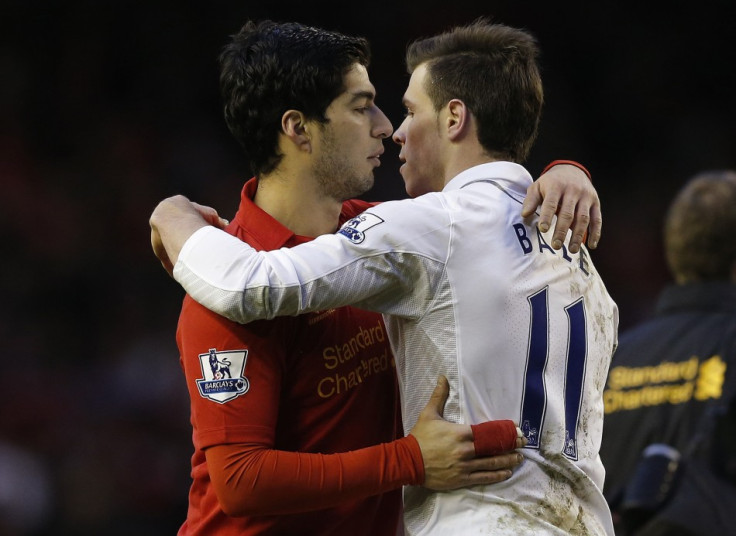 Gareth Platt - Gareth Bale
When Gareth Bale first arrived at Tottenham, the idea that he would one day metamorphose into a British version of Cristiano Ronaldo was laughable. Bale was lightweight and injury-prone, and he even set the unfortunate record of playing 24 Premier League matches without emerging on the winning side.
But now the transformation is complete. Bale's physique rivals Ronaldo's and his vastly-improved upper body strength has enabled him to thrive against even the toughest opponents. Yet, even after all that work in the gym, Bale's footwork remains as balletic as ever and he can beat a full-back with subtlety as well as pace. His vision, and versatility, make him the complete modern winger and almost impossible to mark out of a game.
While it would be unfair to label Spurs a one-man team - the likes of Walker, Holtby and Dembele are all high-class performers - no Premier League star is more influential than Bale. If Andre Villas-Boas and Daniel Levy manage to hold onto their prized asset this summer, he could even propel Tottenham to a title challenge next season.
Tony Mogan - Juan Mata
After so much promise following Chelsea's Champions League win last season, this campaign has been one defined by poor decisions, rampant disillusionment amongst fans and ultimately, disappointment. But the mesmeric performances of Juan Mata have been easily one of the brightest highlights for the club and for English football this season.
Despite having Eden Hazard, Victor Moses and Oscar competing beside him, the presence of the Spaniard in Chelsea's starting XI has so often been integral to an impressive performances from the Blues. The former Valencia man boasts some staggering statistics from just his second season in English football. Mata has provided 21 assists for his Chelsea teammates - 12 of those in the Premier League - which is no simple feat when you consider he has been teeing up the hapless Fernando Torres, while plundering 18 goals for himself, ten in the Premier League including strikes against the likes of Manchester United, Arsenal and Tottenham Hotspur.
The 24-year-old has so often been the splendid source of anything that has gone Chelsea's way this season. His flawless first touch, exquisite range of passing and constant awareness of where everyone is around him at all times are traits that have him recognised as an most essential cog in the Chelsea machine.
Mata has yet to be left on the bench for the duration of a Premier League game this season. In nine appearances where Mata was omitted from either Roberto di Matteo or Rafa Benitez's starting line-up in all competitions this this season, the Blues managed to win just two of those games, drawing three and losing four; a poignant measure of just how influential the midfielder is.
While things at the southwest London club have been anything but predictable, the exemplary form of Mata has been the one constant at Stamford Bridge.
Vanessa Keller - Robin van Persie
Over the course of the season, before Luis Suarez bit off more than he could chew, the debate was well and truly between Liverpool's target man and Robin van Persie over who should be Player of the Year. Robin van Persie's stunning 18 goals before the turn of the year, versus Suarez's 16, showed that both strikers were on course to better their goal tally from last season. But the simple difference between the two players is that while Suarez' skills didn't even move Liverpool slightly closer to their dream of a top four finish, Van Persie did what he needed to lift the title for United.
An eight-game goal 'drought' in between February and mid-March hasn't dampened just how much the striker has had an impact on the Premier League this season as a whole. With 24 goals in the league so far, and an exemplary character to match, van Persie has shown that he wasn't just a one hit wonder at Arsenal and can adapt to the tactics of a completely different group of players.
While the emphasis is often on things like consistency, or statistics, when deciding the prize, the ultimate achievement in the Premier League is the title. And thanks to Van Persie, that trophy is now safely in the cabinet at Old Trafford once again. On that fact alone he is a deserved recipient of Player of the Year, a fact that last year's title winners Manchester City have been very public about being in agreement with.
© Copyright IBTimes 2023. All rights reserved.