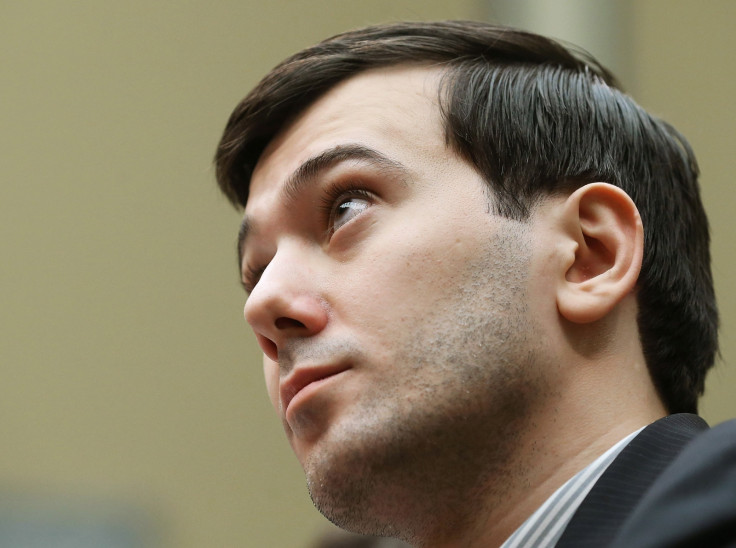 Twitter suspended the account of Martin Shkreli, dubbed the "Pharma Bro", after the former US pharmaceutical executive harassed a female reporter, Lauren Duca. Although the social media platform confirmed that the temporary suspension was related to the harassment of Duca, it did not give any details.
It all started when Shkreli asked Duca through a direct message on Twitter to accompany him as his +1 to attend Donald Trump's inauguration later this month after the journalist wrote an op-ed piece for Teen Vogue which was critical of the president-elect. In reply, Duca tweeted the screenshot of the message replying, "I would rather eat my own organs."
And it did not end there. Shkreli, who shot to fame for jacking up prices of Daraprim from $13.5 (£11) to $750 a pill, went few steps ahead and added a line to his Twitter bio saying he had "a small crush on @laurenduca."
He then changed his profile picture to a photoshopped image photo of Duca and him which originally had her husband's face on it. He even changed his banner to a collage of photos of the journalist and also tweeted that he had purchased the domain name "marrymelauren.com."
What followed was a full troll session on Twitter as Shkreli's followers joined in, tweeting more Photoshops of Shkreli with Duca. Duca is said to have tweeted the screenshots of Shkreli's direct message to Twitter CEO Jack Dorsey on Sunday and his account was reportedly suspended hours later. She further went on to describe Shkreli as an "entitled creep".
Duca was probably targeted for her anti-Trump writings in the past by Shkreli, who has publicly confessed his support for Trump. Shortly before his account was suspended Verge spoke to Shkreli about these Twitter changes and he said he didn't see his actions amounting to harassment as it was not "against Duca's will" because she did not responded to any message in the first place or neither asked him to stop. About the doctored images he said they were similar to those anyone would make of "Justin Bieber or any other celebrity."
After his suspension Shkreli told Breitbart news, "I will miss Twitter but my love for Lauren will never die."
Shkreli has been on the receiving end for raising the price for the antiparasitic drug Daraprim when he was Turing Pharma's CEO in September 2015 by a factor of 56 leading him to be referred to by many as the "most hated man in America" right after the incident. Few months later in December he was arrested by the FBI after being indicted on federal charges of securities fraud. He is currently out on bail.