Manchester United manager Sir Alex Ferguson says Phil Jones has an 'outside chance' of playing against Real Madrid in the Champions League last 16 second leg at Old Trafford on 6 March.
Jones suffered an ankle injury during the first half of the FA Cup fifth round victory over Reading on Monday, later seen leaving on crutches having received lengthy on-field treatment.
The England international produced an admirable performance at the Bernabeu last week as United claimed a 1-1 draw, and was expected to be crucial to their chances of holding off Jose Mourinho's men, and particularly the threat of Cristiano Ronaldo, in the return fixture.
But Ferguson, who says Jones will miss the weekend's Premier League trip to Queens Park Rangers, fears the worst for the 21 year old.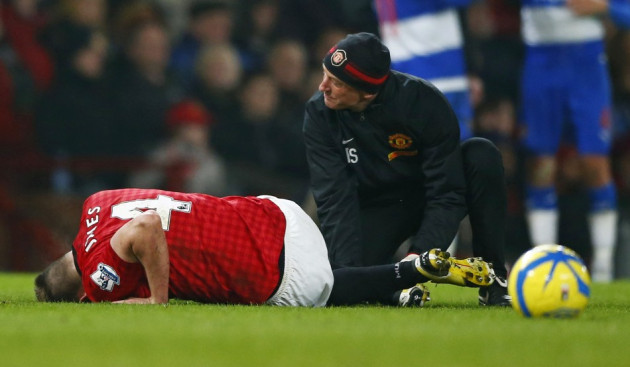 "Phil Jones is the one we're concerned about in terms of the Real Madrid game," Ferguson said. "We're working hard on it and I'd say he has an outside chance - no more than that.
"Phil tackled awkwardly the other night and tangled his foot there, that's why he has the injury he has. He has the courage and willingness to tackle.
"Bryan Robson was the same. Bryan couldn't see danger and neither can Phil. It's a measure of his courage and I don't want to take that away from him.
"Phil did an incredible job in Madrid," the United boss added. "He doesn't care who he's playing against, he has no fear of playing against anyone. We'll have to wait and see if he's fit for the second leg. It's two weeks away. A lot can happen.
"When you look at his tackles, he tackles like a young man. Maybe he's too brave. He was unbalanced in the tackle and ended up injured. He's an outside chance, that's all. Other than that, everybody's fit for QPR.
"We have a problem picking teams at the moment but that's where we want to me. QPR are fighting for survival and we know it's going to be a hard game. That's what we need - we need to make sure we do our job right."
United lead champions Manchester City by 12 points heading into the weekend and with Roberto Mancini's men hosting third place Chelsea, Ferguson's side have an opportunity to extend their advantage against the league's bottom club.
But QPR boss Harry Redknapp, who has already masterminded a win at Chelsea and home draws against City and Tottenham Hotspur, believes his side can produced a surprise.
"Against Man City who are champions, we get another great point and then another at West Ham, which is a hard place to go," Redknapp said.
"So we're just as capable of getting something against Man U as anyone else."