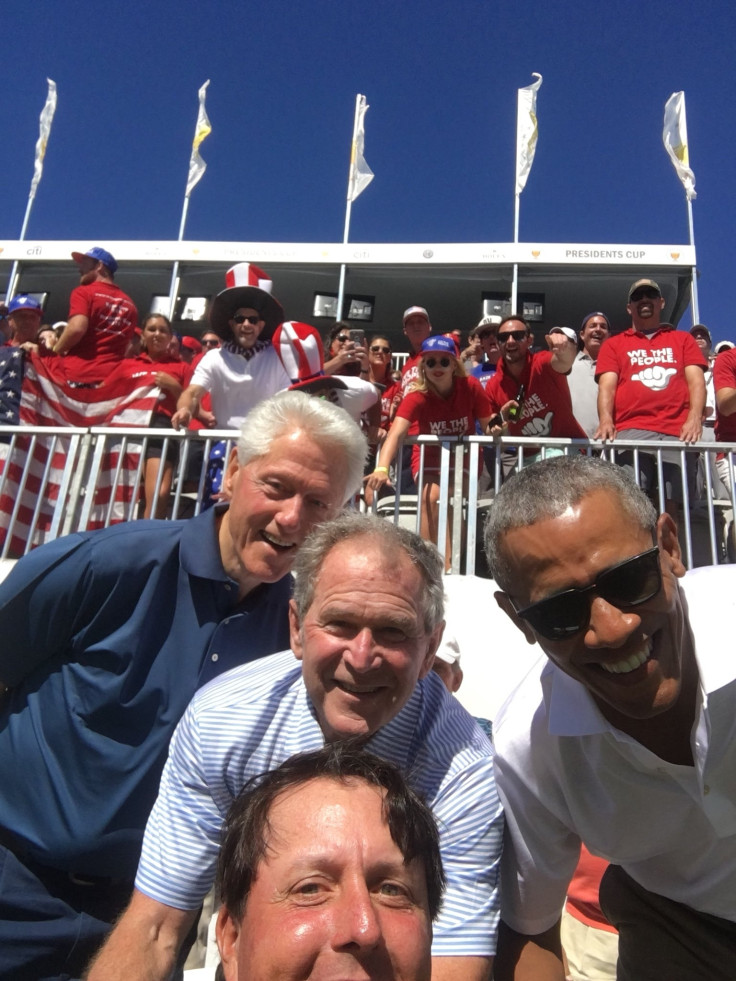 Phil Mickelson made headlines this week for his perfect shot, but it wasn't one with clubs.
The US golfer scored the ultimate power selfie at the start of the Presidents Cup tournament on Thursday (28 September), snapping a picture alongside three presidents.
Mickelson's picture with Bill Clinton, George W. Bush and Barack Obama sparked a frenzy on social media, where it was dubbed the "most presidential selfie ever."
The golfer's brother and his caddie, Tim Mickelson, quickly shared the photo on Twitter with the caption: "When you can take a selfie with three US Presidents, you do it!!"
The former commanders-in-chief all served as honorary chairmen of the Presidents Cup during their presidency.
But it was the first time that they attended a golfing tournament together.
Clinton, Bush and Obama are all keen golfers themselves, but aren't quite as fanatical as Donald Trump, who has played more than 65 rounds since becoming president, according to Golf News Net.
The presidents also gallantly posed for pictures with other golfers and their families at the tournament and mingled with players before they began their round.
Their presence delighted fans but left players feeling even more pressure to perform.
"It was one of the most exciting moments of my life, standing there," South African golfer Charl Schwartzel told ESPN. "I was looking forward to this Presidents Cup for a very long time, and I didn't expect all the presidents to be there. Just to get to meet them was a dream come true for me. Then to hit that first tee shot with the wind pumping off the right was quite intimidating."
Rickie Fowler also felt the nerves when he hit the opening tee shot.
"Luckily, I hit a good one, so it was a weight off my shoulders," he said.