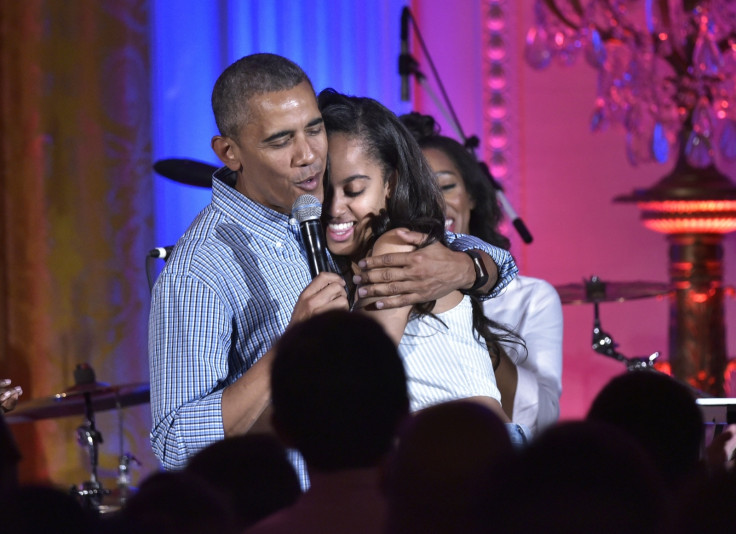 Back in January, during his farewell address, President Barack Obama told his daughters that of all his accomplishments, he was most proud of being their father. So we can imagine the mix of emotions he felt when he had to send his eldest daughter Malia off to college.
Speaking at a fundraiser hosted by the Beau Biden Foundation on 25 September, the former Potus recalled a conversation he had with his former vice president Joe Biden regarding parenting. "For those of us who have daughters, it just happens fast. I dropped off Malia at college, and I was saying to Joe and Jill [Biden] that it was a little bit like open-heart surgery," he said according to WDEL radio.
"I was proud that I did not cry in front of her," he continued. "But on the way back, the Secret Service was off, looking straight ahead, pretending they weren't hearing me as I sniffled and blew my nose. It was rough."
After taking a gap year, the 19-year-old signed up for her undergraduate career at her parents' alma mater Harvard University and began college this fall.
"It's a reminder that, at the end of our lives, whatever else we've accomplished, the things that we'll remember are the joys that our children — and hopefully way later, our grandchildren — bring us," Obama added.
Despite their own academic achievements, Obama and his wife Michelle chose not to pressure their daughters to concentrate only on Ivy League institutions.
In 2016, as she was deciding on which colleges to apply to, the 56-year-old said he told her "not to stress too much" about schools with prominent names. "Just because it's not some name-brand, famous, fancy school doesn't mean that you're not going to get a great education there," he said at the time.
It is believed that Malia's gap year will have helped reduce some of the attention she would have otherwise received if she joined university last year. According to the freshman's mother and former first lady, despite years under media scrutiny, the young Obama is still finding it challenging dealing with the fame.
Speaking at a QnA session at the marketing conference Inbound on 27 September, Michelle said that Malia found it difficult dealing with people regularly coming up to her and asking, "Do I know you?" or "Can I get a picture with you?"
According to People magazine, the concerned mother asked that people give her daughter privacy so that she can go ahead and enjoy college life to the fullest.