The girlfriend of the Minnesota man shot and killed during a routine traffic stop is speaking out about the death less than 24 hours after it occurred. Diamond Reynolds, who live-streamed the deadly altercation on Facebook moments after her boyfriend Philando Castile was shot, said Castile died for "no reason" as she spoke in front of the Minnesota governor's residence earlier on 7 July.
"The police did this," she told the crowd as she wept. "The police killed him in front of my daughter."
Reynolds explained how she, her boyfriend and her daughter were driving a grocery story in Falcon Heights, a suburb of St Paul, when they were pulled over for a broken taillight.
The officer asked for Castile's license and registration, at which point Castile informed the officer that he was carrying a gun, Reynolds said.
"I begin to yell, 'But he's licensed to carry,'" she said. "After that, [the officer] begin to take off shots, bop, bop, bop, bop, 'Don't move, don't move!"
It was then that Reynolds decided to live-stream the incident on Facebook using her phone. The video shows Reynolds sitting in the car with Castile as he appears to bleed out. One officer is seen pointing a gun towards Castile, who appears slumped over lifeless in the seat. The officer is then heard saying, "I told him not to reach for it. I told him to get his hands out."
According to ABC News, the video was briefly removed from the social network before being republished with a graphic content warning.
Reynolds said that after shooting Castile, the officer was crying and yelled, "F**k,oh, my God. I can't believe it. I can't believe it." She continued to live-stream the incident even as she was asked to leave the vehicle and was made to sit in the back of a police vehicle, ABC News noted.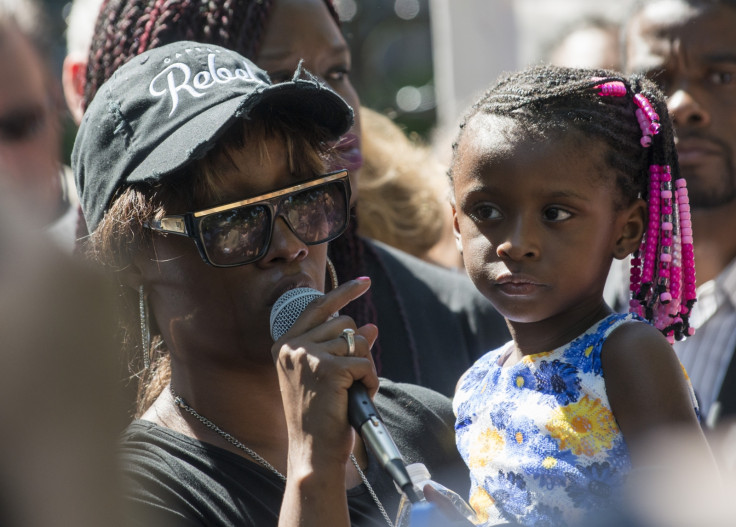 Police then detained her and her daughter at the police precinct in Falcon Heights until the early hours of 7 July, Reynolds said. Officers reportedly took her cellphone and groceries from the vehicle. "They separated my daughters from me. They didn't feed us, and they tried to place the blame like it was something we did," she told the crowd. "I was not released until 5 o'clock this morning, when I arrived at my house with two squad cars."
She continued, "They took a part of my heart. He didn't have any last words. His eyes rolled into the back of his head, and he was dead instantly." Reynolds described Castile as a hard worker who was "very loving" and acted like a father to her daughter.
Castile was employed at JJ Hill Montessori Magnet School, where he managed the school cafeteria, The Washington Post reported. The school is in mourning as news of his death spread. Anna Garnaas, a teacher at the St Paul school, told the Post, "We're just devastated. He just loved the kids, and he always made sure that they had what they needed. He knew their names, he knew what they liked, he knew who had allergies. And they loved him."
Rebecca Penford Murray, mother of two students, said Castile made sure to know each student's name and something about their lives. "It's preposterous for anyone to die violently, but I am still unable to wrap my head around the fact that this happened to a person like him," she said.