Philippine church defends Manny Pacquiao anti-gay marriage stance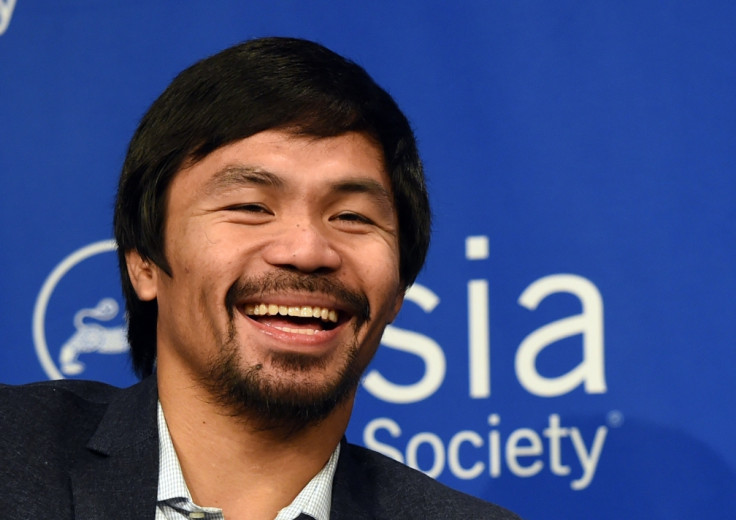 The Philippine Catholic church has come out strongly to defend national boxing hero Manny Pacquiao after he described gays as worse than animals. The church was not the only one. Fans of the boxer-cum--politician also set fire to Nike shoes after the sports apparel company cut its ties with Pacquiao following his comments.
Father Jerome Secillano, the executive secretary of the Catholic bishops' public affairs office told radio station DZMM: "This is really in the Bible. There is this quote he [Pacquiao] uses from the Bible and we cannot change that."
He said that it was "unfair" to condemn the boxing hero for echoing what he reads in the Bible when he was asked about same-sex marriage. He however did say that Pacquiao should not have used such offensive language.
"The church... says that if this is your lifestyle, if this is your orientation, then we respect that, we cannot condemn that," Father Secillano said. He reiterated that the Catholic church is still opposed to the legalisation of same sex marriage.
About 80% of Filipinos are Catholics. Despite this, homosexuality is not criminalised in the Philippines and several LGBT figures are celebrities in the Catholic nation.
Although Pacquiao has issued an apology on social media over his comments, the boxer later said that the apology was qualified.
Pacquiao intends to retire after his April fight against American Timothy Bradley to pursue a full-time career in politics. He is already a two-term congressman and is currently campaigning to win a Senate seat in the May elections. He has said that his ultimate ambition is to be the president of the Philippines.
His fans have come out in support, burning a pile of the sports apparel giant's shoes in a video that has gone viral. Pacquiao however has urged his fans to stop their protests saying: "Many have burned Nike [shoes]. As I've said, 'You should not hold grudges. Instead, pray for them.' Do not hold anger in your heart. Instead, as a Christian you should love them," Pacquiao posted on BoxingScene.com.
Nike terminated its contract with Pacquiao following his comments. The first and only eight-weight division world champion had been a Nike athlete since 2006.
With his election campaign and fight ahead, how is Pacquiao coping with all the controversy? He says all the criticism levelled against him following his anti-gay stance has not bothered him.
He said he stood by his faith and that the chatter "basically goes in one ear and out the other." He said on BoxingScene: "I'm not bothered. That's the world. I mean, Jesus lives in me, so I'm always happy. Says the Bible, every day has enough troubles of its own, so don't he bothered about that."
© Copyright IBTimes 2023. All rights reserved.