The Philippine coast guard is running a search for 18 missing crewmen of a cargo ship that was sunk by typhoon Nock-Ten, which left at least seven people dead as of Tuesday (27 December). The super storm ruined Christmas Day in the country, leaving close to 400,000 people displaced from their homes, and is now headed to the South China Sea.
Locally termed as Nina, the typhoon cut power to five provinces in the Philippines and led to the disruption of over 300 flights in the past two days. Six casualties from the typhoon were recorded in Albay and Quezon provinces, while a sailor of the sunken cargo ship also died.
The typhoon first made landfall in Bicol Islands on Sunday (25 December) evening and hit Batangas province and capital Manila on its way out of the country. According to national weather agency Pagasa, after hitting Manila, the typhoon weakened to a severe tropical storm with wind speeds of up to 120kmph and gusts of 180kmph.
The Associated Press quoted coast guard spokesman Armand Balilo as saying that they have rescued 14 crewmen of the M/V Starlite Atlantic, which sank off Mabini town in Batangas province when the powerful typhoon passed through on Monday (26 December). He added that one sailor died and 18 others are missing, but a search was underway.
Balilo said the ship sought cover in an anchorage area as the typhoon passed, but was caught in huge waves and fierce winds, causing it to sink. He added that another cargo ship ran aground in Mabini.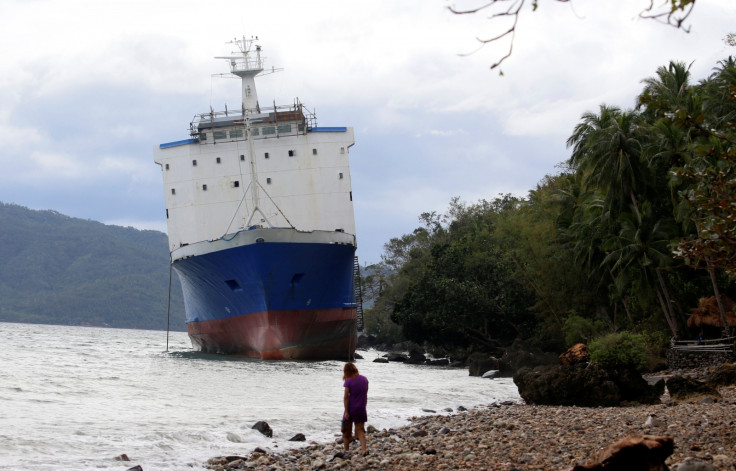 Typhoon Nock-Ten is reportedly one of the strongest to hit the Philippines since Typhoon Haiyan left more than 7,300 people dead in 2014 and more than five million displaced.
The latest typhoon has completely devastated Virac, a city on the eastern island province of Catanduanes, military spokesman Brig Gen Restituto Padilla said, AP reported. He added that the coconut plantations that are the primary industry for the 70,000 odd population of the town were completely destroyed and may take five to 10 years to recover.
President Rodrigo Duterte is reportedly scheduled to visit the town to distribute relief materials to the affected families.