Philippines mall fire: Massive blaze in Davao leaves 'zero' chance of survivors as 37 feared dead
A number of the suspected victims include call centre employees who had an office in the building.
At least 37 people are feared dead in a massive fire at a mall in the southern Philippine city of Davao. The blaze at the NCCC Mall started on the morning of 23 December, trapping a number of people in a 24-hour call centre on the top floor.
According to a Facebook post by the Vice Mayor Paolo Duterte, the firefighters are doubtful of any of the people surviving. "The ground commander of BFP (Bureau of Fire Protection) already announced that their chances of survival are zero," Paolo, the son of the President Rodrigo Duterte, posted online.
Ralph Canoy, a police officer in Davao, told AFP that the fire continued to spread till the early hours on Sunday. "The fire started on the third floor, which houses products like fabrics, wooden furniture and plastic ware, so the fire quickly spread and it's taking a long time to put out," he said.
"It's possible that while they were working, they did not immediately notice the fire spreading."
Joniel Adlawan, the brother of one of the victims, Ian Kim Adlawan, told SunStar that he received a text message from the 22-year-old call centre agent soon after the fire broke out.
"My brother texted just as the fire started out, telling me there's fire. I rushed to NCCC while calling him, asking where he is," he told the news website. "That's when he said, 'Thank you for everything. I could no longer endure the heat of the fire." Kim reportedly told his brother that he and 10 of his colleagues were trapped in the office because they did not leave with the rest.
Another employee of SSI, a Business Process Outsourcing (BPO) company located on the fourth floor of the mall, was able to escape and recalled how the smoke spread quickly through the ventilation system.
"At first, there was just white smoke coming in from the exhaust fan, and then thick smoke quickly followed," she said.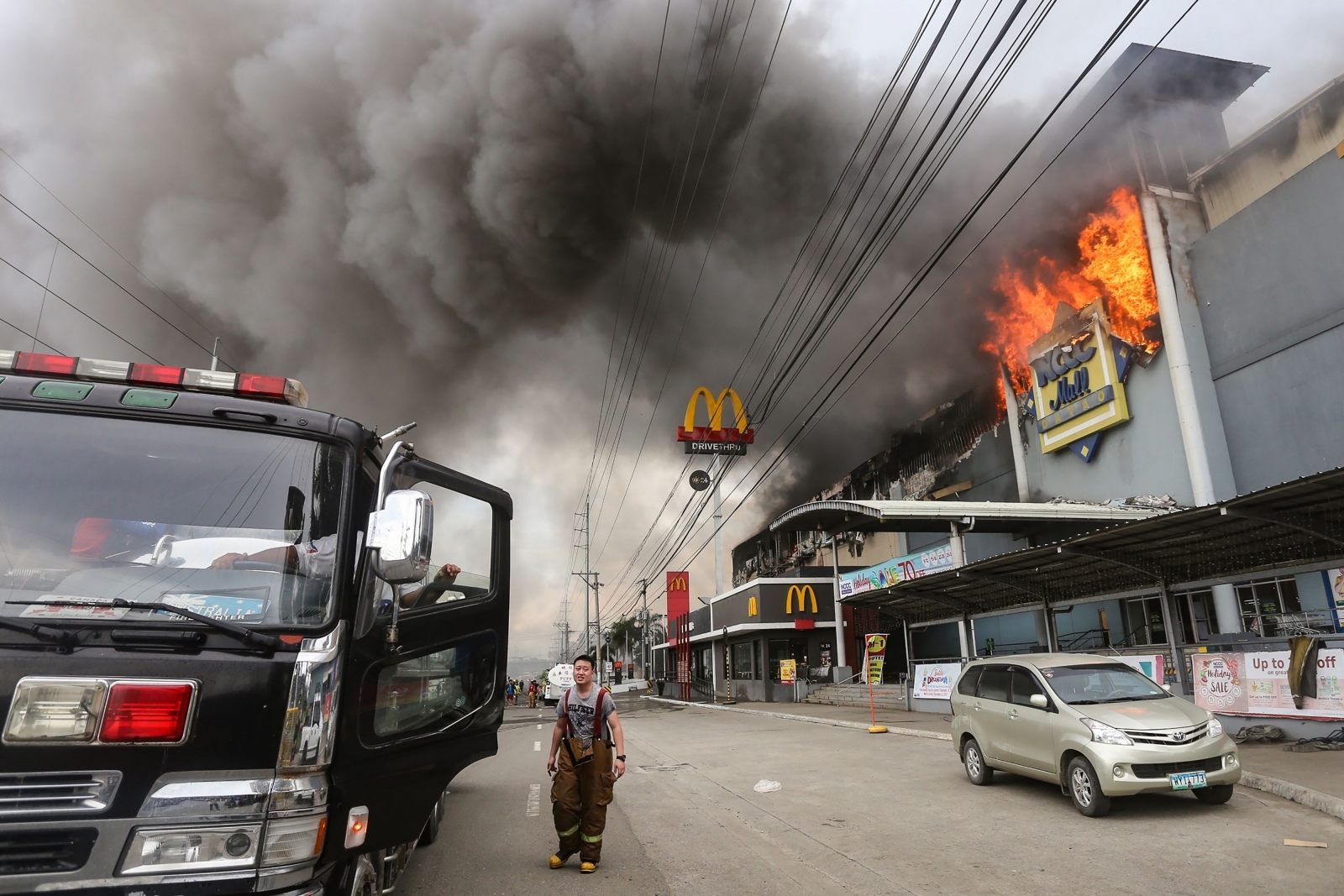 Rey Llanes, one of the firefighters of Filipino-Chinese Fire Volunteers said that because the fire started on the third floor it made it difficult for them to conduct the rescue as falling debris blocked the entry into the mall.
President Duterte, who was the former mayor of Davao, visited the site on Saturday night and met with relatives of victims.