The Philippines military said on Thursday (2 March) that they killed at least five suspected Abu Sayyaf militants in Sulu who were believed to have been behind the beheading of German hostage Jurgen Kantner. Eleven soldiers were injured in the operation.
The Islamic State (Isis)-linked militant group that operates in the country is known for kidnappings for ransom and brutal beheadings when ransom is not paid within a deadline.
Joint Task Force Sulu commander Col Cirilito Sobejana said in a statement that the military encountered a group of at least 70 militants led by Apo Mike and Aldin Bagadi during their latest operation in Sulu.
Sobejana said Abu Sayyaf sub-leader Muammar Askali, who led the negotiations for Kantner's ransom, was not in the group.
Abu Sayyaf released a video of the execution of the 70-year-old German on 27 February – a day after the deadline for the payment of 30 million pesos (£485,594, $595,549) in ransom expired. The Islamist militants had earlier killed his wife, Sabine Merz, when the couple was being kidnapped from their yacht off the Sulu Sea in November 2016.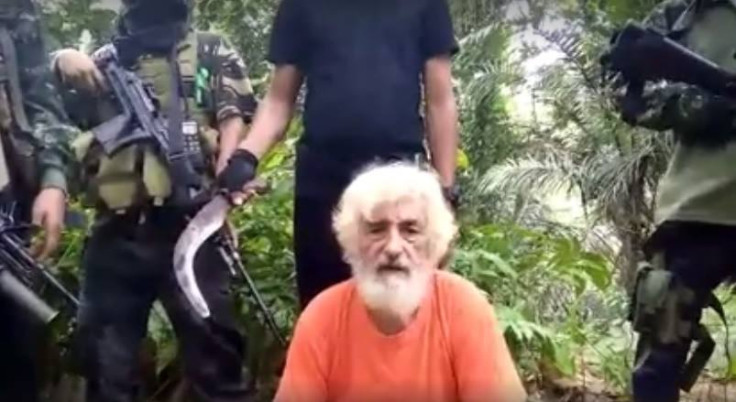 Meanwhile, the Philippines Armed Forces' Western Mindanao Command (Wesmincom) said in a statement that 11 of their soldiers were wounded in the clash with the militants. Sobejana said that two soldiers sustained gunshot wounds while nine were hit by M203 shrapnels. The wounded soldiers were sent to the Kuta Heneral Teodulfo Bautista Hospital for medical assistance, he added, GMA news reported.
Earlier on Wednesday (1 March), Philippines President Rodrigo Duterte apologised to the German administration for failing to rescue the kidnapped tourist and expressed grief over the horrific killing. The Philippines government has maintained that they do not pay ransom to the militants, but had said that they would not intervene if the family of the German hostage chose to pay ransom for his release.
In 2016, the militant group executed two Canadian nationals after their government refused to pay any ransom. Duterte has ordered complete annihilation of the Islamist group, which is believed to be holding more than 20 hostages of different nationalities.