Philippines senator Leila de Lima urges for international inquiry into Duterte's war on drugs
Lima said intervention from outside was the only way to end the extra judicial killings in the country.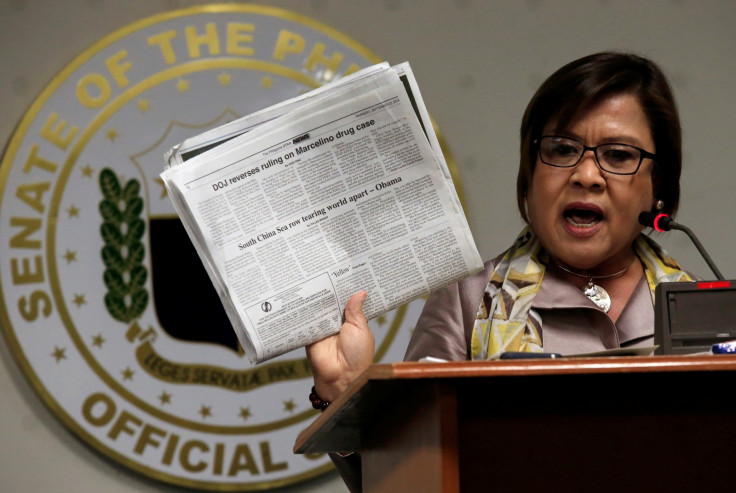 Philippines senator Leila de Lima has urged for an international investigation into President Rodrigo Duterte's war on drugs that has killed over 3,000 people since June. She called on world leaders to consider sanctions and demanded the International Criminal Court (ICC) in The Hague to investigate Duterte.
An ex-Justice secretary and human rights advocate, Lima told the Guardian that intervention from the outside was the only way to end the extra judicial killings in the country.
"It [ICC] should start to think about investigating already or doing an inquiry into the killings as crimes against humanity." she said.
Her call for outside intervention comes after her own failed attempts to take Duterte to task and expose his crackdown on drugs.
Last month, she was ousted by the senate as the chairperson of a committee on justice and human rights looking into the death squads targeting drug dealers and users. Her phone number and address were also made public. She said that it was an open secret that the president will do anything to pin her down.
She added saying, "For a few weeks after that I was unable to go home, I slept in other places although I was able to sneak into my house from time to time, so I felt like a thief in the night in my own home."The more unfortunate thing is that ever since they publicised my cell phone number I did receive a lot, almost 2,000, of hate messages and death threats."
Lima has reportedly become the main enemy of Duterte, who came into power in May. In September, the animosity between Lima and Duterte reached its peak, when she invited a self-professed hitman named Edgar Matobato to testify. He accused the President had shot a justice department official dead with an Uzi submachine gun, in southern Philippines.
However, Duterte denied the claims and during the cross examination of Matobato, many inconsistencies were reportedly found.
Lima faced fierce backlash from Duterte's backers after which she was sacked as a committee chair.
© Copyright IBTimes 2023. All rights reserved.