Philippines Vice President Leni Robredo has resigned from the cabinet over major differences with President Rodrigo Duterte and his recent decision barring her from attending cabinet meetings.
Robredo, 52, a former lawyer and social activist, announced her decision to step down as chairperson of the Housing and Urban Development Coordinating Council on Sunday (4 December) evening. She submitted her formal resignation to the presidential office at Malacanang on Monday morning.
In the resignation letter, Robredo said Duterte's order barring her from all cabinet meetings had "made it impossible for me to do my job".
"I have exerted all effort to put aside our differences, maintain a professional working relationship, and work effectively despite the constraints because the Filipino people deserve no less," Robredo added.
"Remaining in your cabinet has become untenable," she said in the letter addressed to the president.
She said earlier that she had major differences with Duterte on "principles and values" since the very beginning, ABS-CBN reported.
On Sunday, she said she received a text message the day before from Cabinet Secretary Leoncio Evasco Jr stating that Duterte had ordered her to "desist from attending all cabinet meetings," effective 5 December, the news outlet said in a separate report.
Evasco reportedly confirmed the order and attributed it to "irreconcilable differences". He clarified that there were no plans to remove her from the cabinet, but people who "cannot just jibe with what the president is doing, they cannot support what the president is doing, then they have to resign", he said.
Robredo, who hailed from former president Benigno Aquino's Liberal Party, has been vocal about her views on Duterte and his administrative decisions. She also criticised Duterte for his "inappropriate remarks" about her legs and beauty. He had reportedly asked her in public if she had a boyfriend.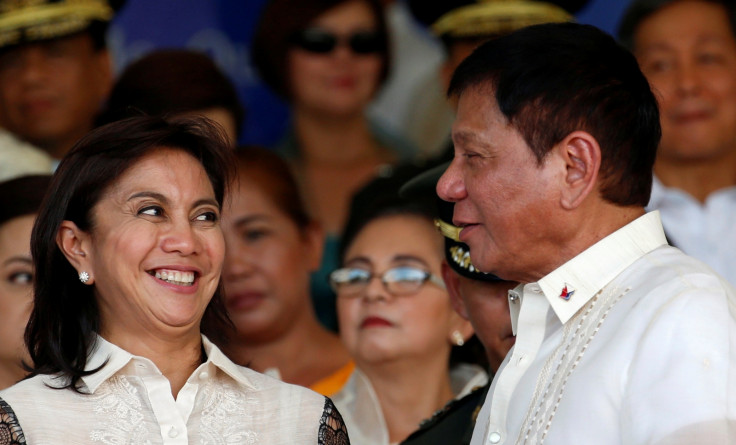 She had then retorted that such "tasteless remarks and inappropriate advances against women" were not expected of leaders, especially the president.
"When President Duterte made inappropriate remarks, I deliberately chose to ignore these. There are larger and more urgent issues we confront as a nation that demand our collective attention," she had reportedly said.