Duterte threatens to include human rights activists in kill list if drug menace worsens
The Philippine president likened the country's drug problem to stage 2 cancer.
Firebrand Filipino leader Rodrigo Duterte has warned human rights activists criticising his bloody war on drugs that he will include them in his kill list if the drug menace worsens in the country. Close to 5,000 alleged drug criminals have reportedly been killed in the past six months as part of the president's anti-drug campaign.
The Philippines president likened the country's drug problem to "stage 2 cancer" and said on Monday night (29 November) that human rights activists will have to be blamed if more people die of drug addiction.
"The human rights (defenders) said I ordered the killings. I told them 'OK. Let's stop. We'll let them (drug users) multiply so that when it's harvest time, more people will die," Duterte reportedly said at an event.
He added: "I will include you because you are the reason why their numbers swell," referring to the human rights activists who have been accusing him of extra-judicial killings, the Philippine Daily Inquirer reported.
"If the human rights (community) could not understand what I'm saying, if you're that stupid, then I cannot do anything for you," he added.
Duterte used the occasion to yet again lash out at the US and the European Union for raising human rights concerns about the alleged drug killings in the country. "When was it a crime to say 'I will kill you' in protecting my country? When did saying 'if you harm my country and my children, I will kill you' become a crime?' My God!" Duterte said.
He went on to show the audience his validated narco list containing the names of about 5,000 government officials allegedly involved in the drug trade, cautioning them that he was not trying to scare them with the thick stack of papers. He said he had shown the same list to former president Gloria Macapagal-Arroyo, whom he earlier blamed for not doing enough to contain the drug menace.
Duterte added that village officials were the ones who benefit the most from the illegal drug trade.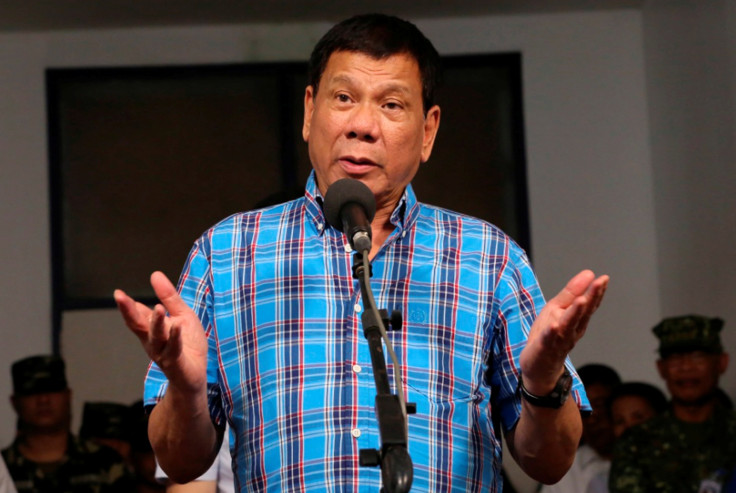 © Copyright IBTimes 2023. All rights reserved.