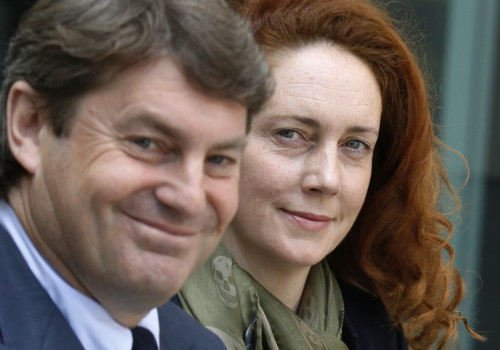 CCTV footage showing Rebekah Brooks' husband hiding computers and documents from police investigating phone-hacking has been released.
The camera caught Charlie Brooks in the underground car park of their flat in Chelsea, West London, carrying a jiffy bag. The brief clip shows Mr Brooks walk behind a pillar, then reappear without the bag.
The clip was recorded on July 17th 2011, at around the same time Ms Brooks was arrested and cautioned at a South London police station.
It was shown during the court proceedings at the Old Bailey, as part of the case in the conspiracy to pervert the course of justice charges against the ex-News International chief executive.
Both Mr and Mrs Brooks deny all charges against them.
The jury was also shown footage recorded later in the afternoon, which reveals seven police officers leaving the car park after searching the Brooks' flat. They are seen carrying several large boxes.
On the clip, Daryl Jorsling, News International security contractor, arrives and can be seen removing a large black bag out of his car. The video then shows him handing two pizza boxes to another man.
The jury heard that Mr Jorsling had then texted a colleague saying: "Broadsword calling Danny boy, pizza delivered and the chicken is in the pot".
The court had previously heard that Ms Brooks had sent an email requesting her office was swept for listening devices. The co-defendant Mark Hanna had been copied into the email.
She wrote: "Can you have my office swept... thanks. Discreetly."
News International had its office swept for bugs around the time Rupert Murdoch bid for the overall control of BSkyB, the court heard. According to Hanna, this was one of the reasons for the sweeping.
He said: "In 2011, News Corp was trying to increase its shareholding in BSkyB, I think with the objective of becoming the majority shareholder.
"It was a sensitive topic at News Corp, and another reason why you would want to be sure discussions about such a matter were not broadcast to people who were potential competitors."