Prince Harry is on an official 'fun but formal' 14 day tour of the Caribbean islands. The visit will mark the 35th Anniversary of Independence in Antigua and Barbuda, and the 50th Anniversary of Independence in Barbados and Guyana. Prince Harry will stop off at seven countries during the royal tour, including Antigua and Barbuda, St Kitts and Nevis, St Lucia, St Vincent and the Grenadines, Grenada and Barbados. He will also be visiting Guyana on behalf of the Foreign Office.
Day Three:
Prince Harry enjoyed a boat tour around the island of Barbuda before meeting with students at Sir McChesney George High School, where he gutted a fish that he had caught on the boat trip. Prince Harry capped off his visit to Antigua and Barbuda by planting a tree in the Victoria Park Botanical Gardens in St. Johns, as part of the Queen's Commonwealth Canopy project.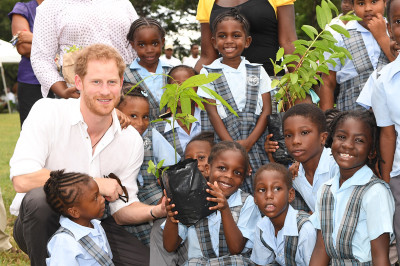 Day Two:
Harry attended a youth sports festival at Sir Vivian Richards Stadium, where he met with cricketers Andy Roberts and Vivian Richards. Following the sporting event, Harry attended a Charity event at Government House, followed by an evening reception held by the Prime Minister of Antigua and Barbuda, Gaston Browne in Barnacle Point.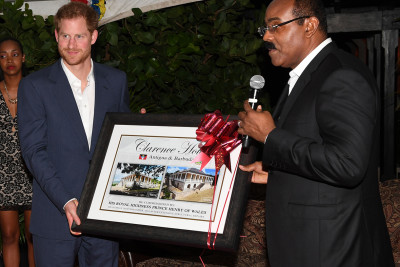 Day One:
Prince Harry arrived at V.C Bird International Airport in Antigua, before attending a welcome reception hosted by the Governor General, Sir Rodney Williams, at the newly renovated Clarence House. He will spend the next three days touring Antigua and Barbuda, marks the 35th Anniversary of Independence.