Indonesia has raised its warning for Bali's Mount Agung volcano to the top level four alert, closed the holiday island's airport and told residents around the mountain to immediately evacuate, warning of an "imminent" risk of a larger eruption.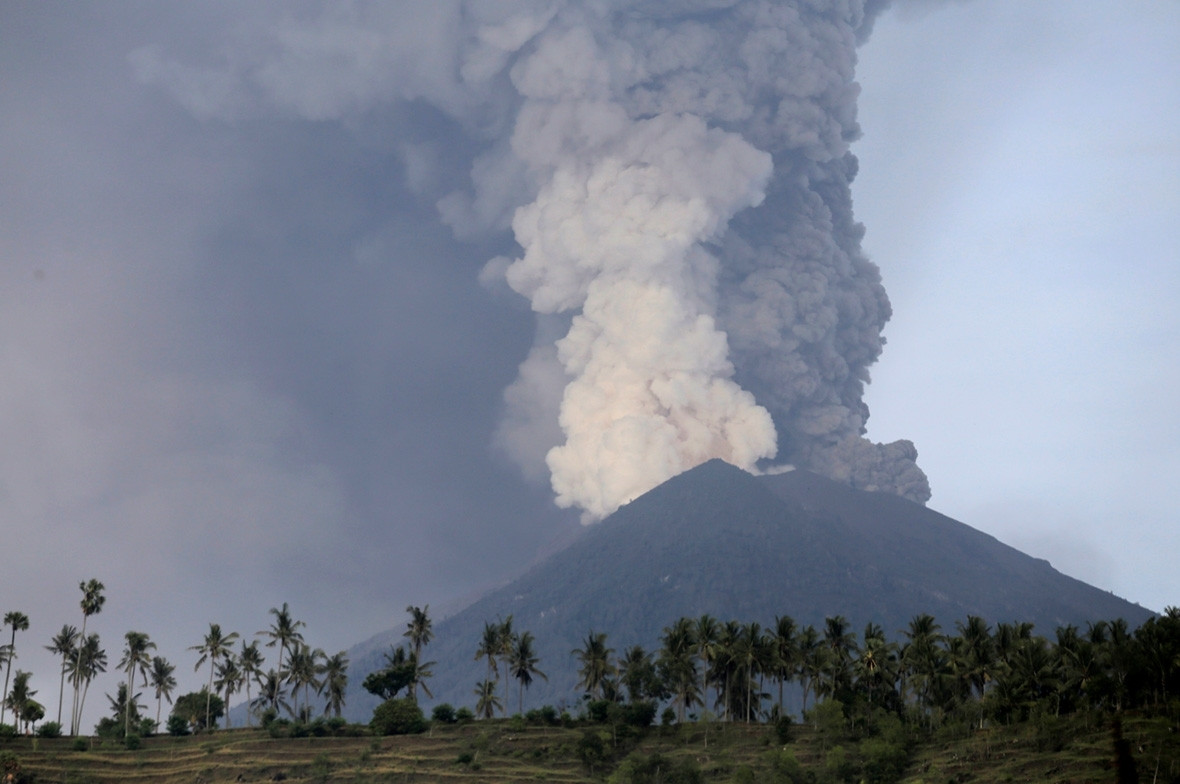 The alert level on Agung had been raised to the maximum in September, but was lowered in October when seismic activity calmed. However, volcanologists now say the volcano has entered a new phase with magma now visible at Agung's peak, meaning a greater risk of a larger eruption.
"Plumes of smoke are occasionally accompanied by explosive eruptions and the sound of weak blasts that can be heard up to 12 km (7 miles) from the peak," the Disaster Mitigation Agency (BNPB) said. A spokesman for BNBP said the lava "will certainly spill over to the slopes". Volcanologists say the lava's presence is sometimes reflected in the ash plume which takes on a reddish-orange glow even in daytime.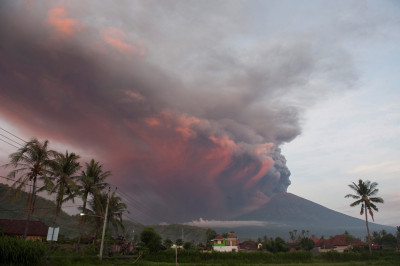 Agency spokesman Sutopo Purwo Nugroho said bigger eruptions than those currently happening are possible based on the information the disaster agency is receiving from the volcano monitoring centre.
Cold lava flows, known as lahar, have been witnessed at a number of locations on the mountainside. Lahar carrying mud and large boulders can destroy houses, bridges and roads in its path.
Residents have been warned to "immediately evacuate" a danger zone around Agung in a radius of 8-10 km (5-6 miles). Sutopo, a BNPB spokesman, said there had been no casualties so far and 40,000 people had left the area, but tens of thousands still needed to move and warned authorities would move them by force if necessary.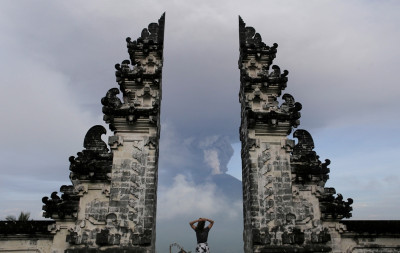 Bali's I Gusti Ngurah Rai airport, which is about 60 km (40 miles) from the volcano, will be closed for 24 hours. The closure of the airport is having a disruptive effect on flights around Indonesia and the region. Bali is a hub airport in Indonesia with many flights transiting there for domestic as well as international destinations. Planes that would have flown other routes Monday are now stuck on the tarmac in Bali.
Authorities say the airport closure is in effect until Tuesday morning and is being reviewed every six hours.
Stranded tourists could leave Bali by taking a ferry to neighbouring Java and then travel by land to the nearest airports. Major ferry crossing points have been advised to prepare for a surge in passengers and vehicles.