Justin Timberlake and Jessica Biel hosted a fundraiser for Hillary Clinton at their home in Los Angeles on 23 August and despite the hefty $33,400 (£25,540) price per ticket, the luncheon saw a number of Hollywood's known faces. The Grammy award winner and his actress wife even set up a photo-booth for the event and shared some fun images with the Democratic presidential candidate herself.
"Look who came over for lunch...#imwithher," Biel captioned an Instagram post of herself, Timberlake and Clinton. The fundraiser's co-hosts Jennifer and Tobey Maguire, Jennifer Aniston, Yael and Scooter Braun, Shonda Rhimes, and ICM Partners' Chris Silbermann also posed for a few photos.
The event was originally supposed to be held at Leonardo DiCaprio's home but was moved to Timberlake and Biel's because The Revenant actor had prior work commitments in New York. "Not wanting to leave Hillary hanging, Leo called his friends Justin and Jessica and asked if they would host for him," a source earlier mentioned. "They immediately agreed to fill in as hosts and moved the event to their home for Tuesday."
However, soon after DiCaprio dropped out, the 41-year-old was reportedly linked to a $3bn (£2.2bn) Malaysian embezzlement scandal. When asked if the change of venue had anything to do with the reports, a spokesperson with the Clinton campaign told The Hollywood Reporter that the suggestion "is completely false. It's not at all true." He added: "If we could have had the event at his home, we would have loved to. He was gracious enough to find us a new host. We hope to do something with him in the future."
The lunch was part of Clinton's LA fundraising blitz, which will go on to include two more fundraisers in Laguna Beach, one hosted by Janet Keller and Chantal and Stephen J Cloobeck, and the other by Mike Levin, Frank Barbaro, and Melahat Rafiei.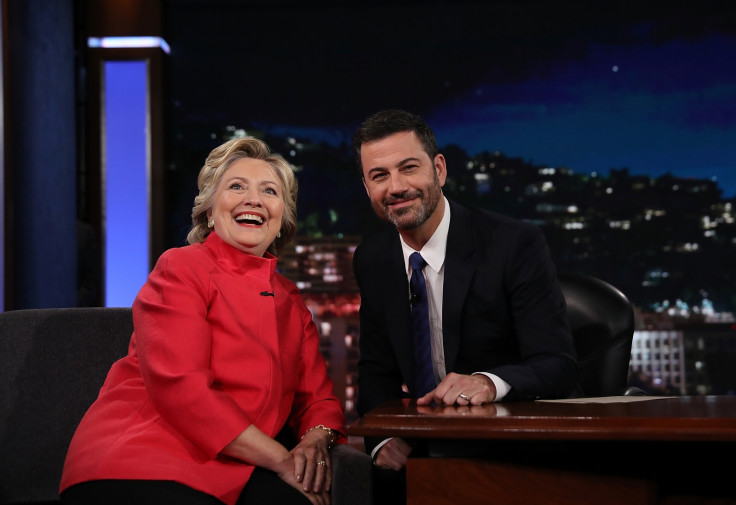 A day prior to the Timberlake-Biel lunch, Clinton attended another fundraiser at the home of Power Rangers billionaire Haim Saban, which was co-hosted by Disney chief executive Bob Iger, LA Olympics bid chief Casey Wasserman and mega-donor Jeffrey Katzenberg. She also made an appearance on Jilly Kimmel Live to discuss Donald Trump's recent statements against her.