The picnic hamper is a summer essential steeped in nostalgia and not necessarily our own. The bygone romance of black and white films that see a couple dashing off in an open top car with a neatly packed basket tucked in the back seat is a far cry from the lugging of a overladen old Fortnums box on the tube to the nearest green space. Nevertheless, the summer is nothing without at least one properly packed picnic.
The basket itself is an investment and a luxury, something that we are encouraged to keep hold of and most importantly take everything home in at the end of the day. It is far too easy to leave behind a cool bag full of tupperware and plastic than it is to discard a handmade case and real champagne glasses, also it looks and feels a lot classier.
After waiting in vain for the summer to arrive, the real picnic activities have finally begun and with Hay on Wye kicking off the literary festivals and Glyndebourne 's opera fest in full swing, the wicker-basket feasting time is in full season.
Whether you are planning a day at a festival or looking to plan a secret getaway there are ready to go picnic hampers to suit every palette.
Fortnum and Mason - The Champagne Rambler Picnic with Dog Biscuits; £25
A cute handipack version of Fortnum's sumptuous picnic offering complete with sandwich selection, mini champagne bottle and dog biscuits if you're picnicing with a furry friend.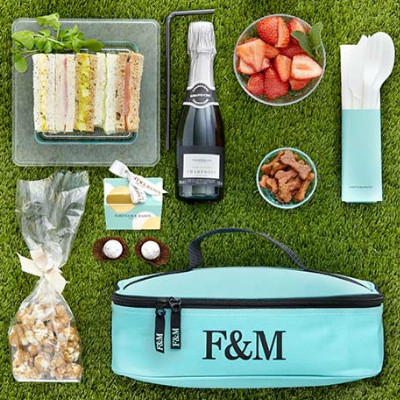 Ross and Ross - The XL Man Box; £39.50
This is a great selection for meat and beer fans packed full of British-made charcuterie and Cotswold ales as well as crispy pork crackling and plenty of chutney, the ideal mix for a lazy sunny day.
Marks and Spencer - Afternoon Tea Basket; £40
For those with a sweet tooth, get the thermos ready and tuck it into this adorable basket of baked goods including Viennese creams, Devon scones and raspberry jam with refreshing Assam tea.
Carluccios - Classic Hamper for Two; £45
It may not come in a woven basket but Carluccios offering is just perfect for a sunny day outside. Fresh salads, cured meats and plenty of flavour-intense anti-pasti that can be washed down from a huge choice of summer picnic wines.
Waitrose - National Trust Picnic Hamper; £66
This is a true heritage picnic choice from Waitrose that contains all National Trust produce. The Todhunter wicker hamper with carry handle, comes complete with a two person dining set with fine china plates and cutlery as well as a host of British goodies.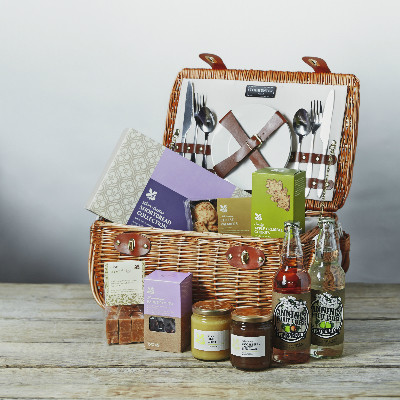 Inverawe Smoked Salmon - The Tiree Hamper; £49.50
This two person sharer is for the smoked lovers out there. Salmon, chicken and cheese all smoked deliciously and paired with pate, dill and oatcakes for an indulgent, but incredibly delicious, picnic.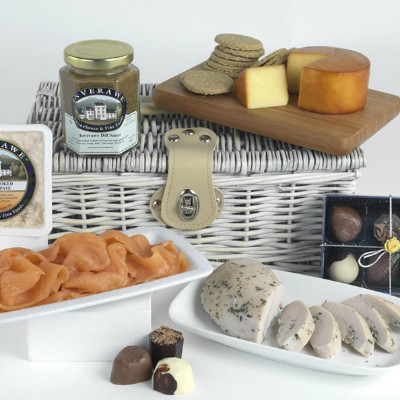 Daylesford - Bespoke Hamper; from £100
Daylesford know that not everyone wants the same ingredients to make the perfect picnic so you can choose your own. Anything from their organic food range, homeware, wine and beauty selection can be added for the perfect combination, albeit potentially very expensive.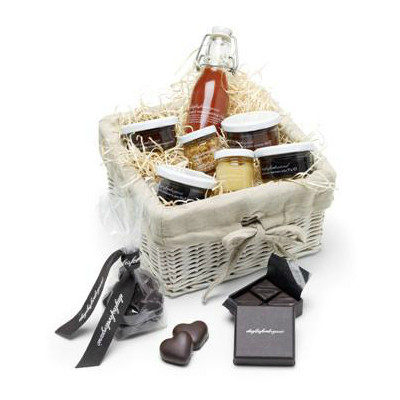 Fortnum and Mason - The Ultimate Banquet Picnic; £275
Now this is the mothership in indulgence, if you're doing an all dayer at Glynebourne or perhaps planning a Hampstead Heath proposal then this is the one for you.
Lobster, Blanc de Blancs champagne, duck breast and quince are but a taster of what this classic wicker hamper has to offer, and most importantly, you have a fabulous fortnum basket to take home with you.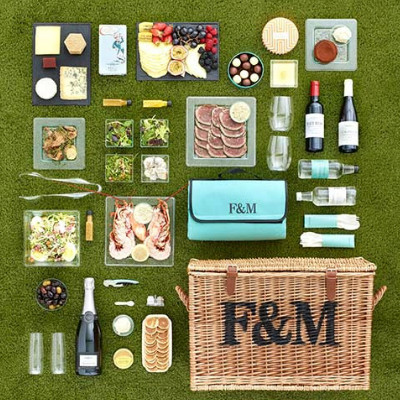 Regency Hampers - The Swangrove Picnic Gift Hamper; £430
The hamper to end all hampers, get a crowd together and then bring this explosion of treats. Fully fitted with crockery, cutlery and glassware for six, it also includes Veuve Clicquot, Brut Champagne, Les Collinettes Sancerre and Cloudy Bay Sauvignon Blanc so make sure you aren't driving home when the day ends. From cheese to chocolates there is pretty much everything a party picnic could desire in here.