The city of Tel Aviv is aiming to break the Guinness World Record for the tallest structure built with interlocking plastic bricks - and the project has taken good shape.
The structure was erected in Rabin Square, facing Tel Aviv's City Hall, and is made out of more than 500,000 plastic bricks pieces (not all Lego pieces), weighs a ton, and measured 35.95m tall when completed on 27 December.
The project was launched two years ago by Tel Aviv school teachers, Ben Kingler and Shirley Bardugo, to honour one of their pupils, Omer Sayag, who died of cancer in 2014 at eight years old.
Omer liked to build tall Lego towers and had become famous for his Lego reproduction of the Taj Mahal, which he donated to the Lego exhibition. The structure will bear his name - Omer Tower.
Kingler and Bardugo contacted a local association teaching science to children, Young Engineers, as well as the municipality of Tel Aviv for assistance. They also asked international personalities such as model Bar Rafaeli to bring attention to their cause.
Over the course of two years, thousands of volunteer children and adults at dozens of community centres across Tel Aviv built sections of the tower. The have now been combined to deliver the final Omer Tower.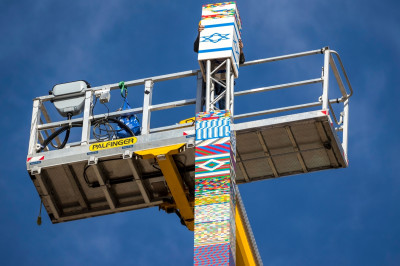 In addition to being a heartfelt memorial to Omer, the tower is also an engineering challenge, as noted by Young Engineers, who had "not yet taken part in a project of this scale."
"The models that our students usually build are small, but in this case - together with the Tel Aviv Municipality - we are building a huge tower, made up of sections built by thousands of children and adults in dozens of centers in Tel Aviv, mentored by our instructors, over the past two years" said the association in a statement.
"In addition, we are responsible for combining all of the parts at the event, ensuring that every section is stable in itself and contributes to the whole."
Although the engineers are working with children's toy bricks, building the tower was not very different from putting a real building together, from gathering the thousands of bricks to transporting the separate parts to be assembled in Rabin Square.
"Despite the challenges, we are pleased and proud to take part in this important project that found its way into our heart from day one," said Young Engineers founder Amir Asor. "It reflects a great deal of love and positive memories that everyone can relate with."
The previous world record had been set in Milan in 2015 at a height of 35.05m. Omer Tower is still awaiting confirmation from Guinness World Records that it is the new title holder.