Pierce Brosnan's Daughter Ovarian Cancer Death: Funding For Disease 'Woefully Low' Expert Says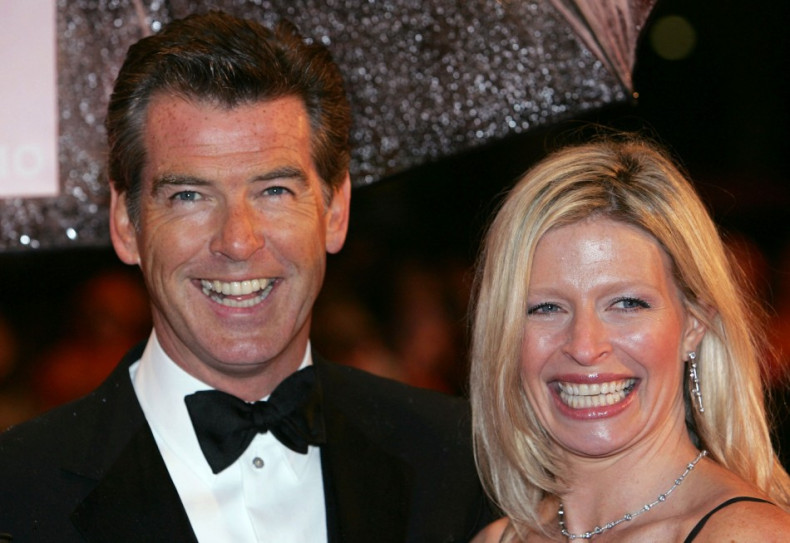 Pierce Brosnan's daughter Charlotte Emily has died from ovarian cancer at the age of 41, three years after being diagnosed with the disease.
The 60-year-old actor announced her death 11 years after his first wife Cassandra Harris died from the same disease at the age of 43.
In a statement to People magazine, he said: "On June 28 at 2pm my darling daughter Charlotte Emily passed on to eternal life, having succumbed to ovarian cancer. She was surrounded by her husband Alex, children Isabella and Lucas and brothers Christopher and Sean.
"Charlotte fought her cancer with grace and humanity, courage and dignity. Our hearts are heavy with the loss of our beautiful dear girl.
"We pray for her and that the cure for this wretched disease will be close at hand soon. We thank everyone for their heartfelt condolences."
Charlotte was adopted by Brosnan after Harris' first husband died. It is not known whether Harris and her daughter carried the BRCA1 or BRCA2 gene, which increases the risk of getting ovarian cancer.
Ovarian cancer is the fourth most common cause of cancer death in women in the UK and is the most common cause of gynaecological cancer death.
In 2010, one woman died from ovarian cancer every 12 days, amounting to around 4,300 women. In total, 7,000 women were diagnosed with the disease in the same year.
Cancer Research UK statistics show that 43% of women diagnosed with the disease survive for at least five years.
While over 90% of women diagnosed with the earliest stage of the disease survive for at least five years, many women are not diagnosed until the later stages because the symptoms are often difficult to recognise.
Symptoms of ovarian cancer include:
Increased abdominal size and bloating
Persistent pelvic and abdominal pain
Back pain
Needing to urinate more urgently and frequently than normal
Loss of appetite
Unexplained weight gain
Pain during sex
Irregular periods or bleeding after menopause
Ovarian cancer is much more common in women who have been through the menopause. Around eight in 10 cases are in women over the age of 50.
As well as the BRCA1 or BRCA2 genes, women who have not had children or had difficulties conceiving are also at a higher risk of developing ovarian cancer.
Robert Marsh, chief executive of gynaecological cancer charity the Eve Appeal, told IBTimes UK: "In terms of scale, breast cancer and gynaecological cancers are not a million miles away from each other [in terms of incident rates] but the funding and profile of research into gynaecological cancers is woefully low.
"I don't know anything about Pierce Brosnan's daughter's case but in our experience and particularly for ovarian cancer, most women are diagnosed at stage three or four and the prognosis is very bad.
"The earlier you can treat it the better. One of our flagship research projects is to predict risk of ovarian cancer.
Speaking about Brosnon, he added: "It's just very sad. Nobody should experience the death of their children and I feel for him."
Following news of Charlotte's death, friends paid tribute to the mother of two. Actor Robert Davi said: "Been informed my friend Pierce Brosnan lost his daughter to an illness - my prayers and love go out to him and his family."
Miles Anthony, her brother Sean's agent, added: "My thoughts and prayers are with my client and friend Sean Brosnan who lost his beautiful sister Charlotte over the weekend. Love you buddy."