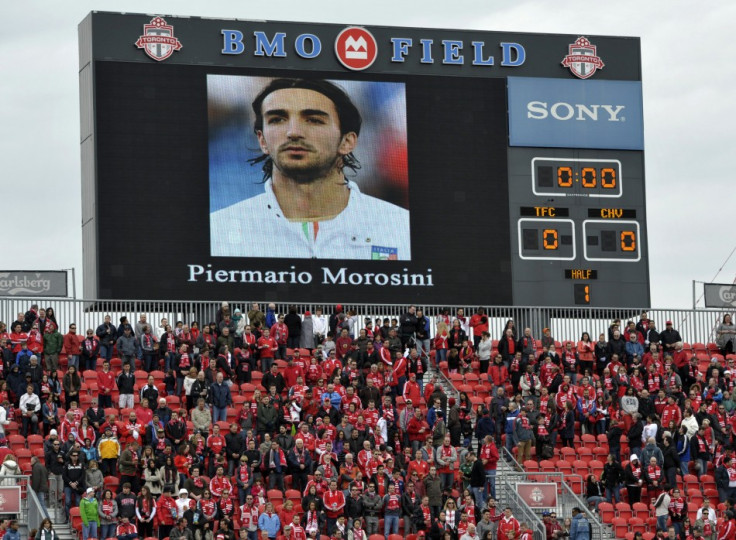 Livorno midfielder Piermario Morosini's tragic death, after suffering a cardiac arrest during a Serie B league game, came as another shock to the footballing world, which is still recovering from Bolton midfielder Fabrice Muamba's collapse last month. The 25-year-old midfielder, who was not as lucky as Muamba, was declared dead after being rushed to the Santo Spirito hospital in Pescara, Italy.
Some of the biggest names in football took a moment of their time to pay tribute to the young Italian
"Rest in peace Piermario Morosini, riposa in pace," posted Dutch midfielder Wesley Sneijder on Twitter.
"Terrible news I hear. Rest In Peace Piermario Morosini. We all wish for the family and club to find the strength that will be needed," Manchester City captain Vincent Kompany added.
"Piermario Morosini's passing is a great blow to everyone. it's a sad day for me as well. My condolences to his family," posted Kompany's City team mate Sergio Aguero.
"My condolences to his family & friends RIP#CiaoMoro," posted Chelsea winger Juan Mata.
Also, various football clubs sent their condolences to Morosini's friends and family...
"President Massimo Moratti, everyone at FC Internazionale, [manager] Andrea Stramaccioni and all the players join in mourning Piermario Morosini, after he passed away this afternoon.The club is close to the family, Udinese Calcio and A.S. Livorno Calcio during this difficult time," read a statement on Inter Milan's official Web site.
Inter Milan captain Javier Zanetti also paid his tributes to the Italian.
"We are truly shocked by what happened to Morosini. We are all struck deeply. Something incredible happened and it was clearly the right decision to call off the games.On behalf of all my teammates, our thoughts and embraces go to his loved ones," he said, according to a Sun report.
Italian police officials will open an investigation into Morosini's death following a controversy regarding a traffic police car that was parked on the way to the stadium and had to be forcefully moved so that the ambulance could go through.
Morosini, who had a very tragic life, lost both his parents before he was 18. Soon after, his disabled brother committed suicide. Now the 25-year-old Italian is only survived by his elder sister, who is also handicapped.