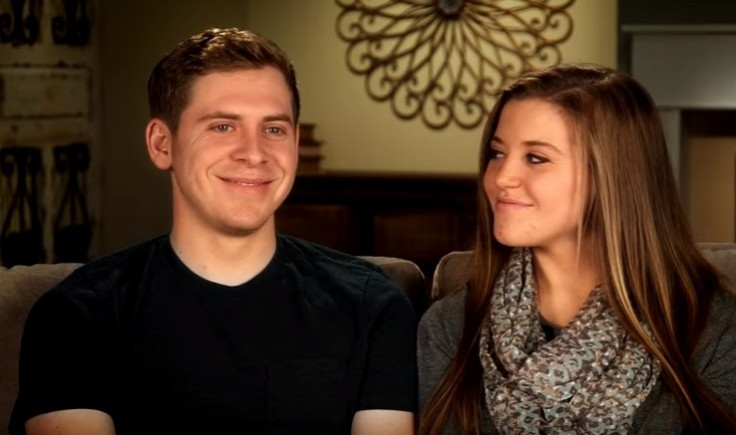 Jinger Duggar is breaking all strict dress codes imposed by parents Jim Bob and Michelle after her marriage to Jeremy Vuolo, and is enjoying her life in Texas. However, the same cannot be said about her younger sister Joy Anna who recently married Austin Forsyth.
While Jinger is travelling cities wearing pants, shorter dresses and sleeveless tops, Joy is still stuck in the Duggar family dress code and there has been no change in her wardrobes post her marriage. Fans went wild after she was spotted wearing a conservative dress during recent dirt biking with hubby Austin. In the picture, the 19-year-old reality star poses happily with her husband on a dirt bike.
"I always love getting to do new things and go on new adventures with my man," she captioned the image in which she is seen in a floral dress paired with safety gears for her first adventure ride. Soon after the fifth Duggar daughter shared the image on Instagram, social media users ruthlessly trolled her for her 'dangerous' choice of attire for the adventure sport.
"Please wear pants when riding it is not safe to wear a dress," an Instagram follower advised her. One fan went on to call out her husband for putting his newlywed wife in "danger" in the name of tradition.
"Of all the demeaning, absurd Duggar daughter demonstrations, this is among the most ghastly. Not only is it dangerous but the woman is diametrically opposed to the clothes she is now forced to wear as a subservient wife," the fan commented.
"Put a pair of trousers on, that's just ridiculous and unsafe. That dress is going to be flapping about and very distracting, presuming you are doing more than just 'posing' for the camera," added another.
Following the troll, some ardent Duggar fans came forward to support the Counting On star and urged people not to judge a "great Christian who has great love for the Lord".
" We're not judging her we just would like for her to wear pants so she doesn't get her dress hung up in the wheels and get hurt," responded another.
Contrary to her post-wedding lifestyle, her elder sister Jinger is living a bit more glamorously as she continues to move about in different cities with husband Jeremy and wearing comfortable wearing pants and shorter dresses.