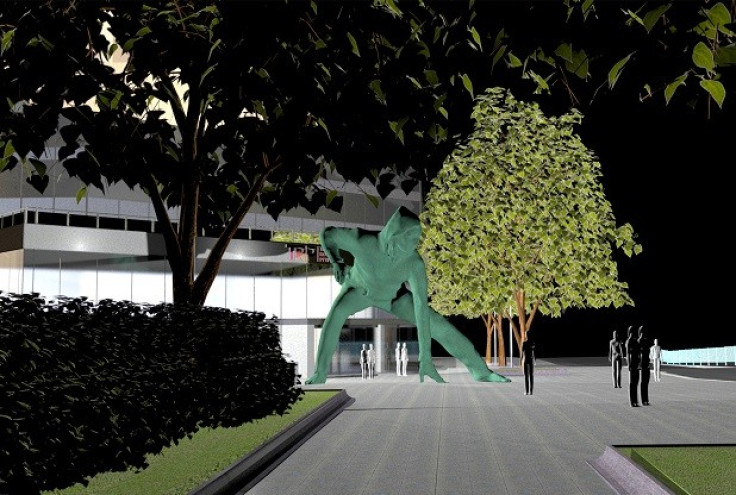 A Plymouth man disgusted with a council proposal to build a 7m-high statue of a 'prostitute' has threatened to fight back by raising money to erect a rival sculpture - of a penis.
Alan Grant told councillors he was dismayed at their decision to spend £450,000 ($564,000) on a giant statue of Bianca, a courtesan in Shakespeare's Othello, outside the Plymouth Theatre Royal.
An artist's impression of the Bianca sculpture shows her bending forward outside the entrance to the venue while theatregoers walk beneath her splayed legs.
At a planning committee meeting on 9 February Clark argued that the project "denigrates and demeans women". He said the figure had already been nicknamed "Radcliffe's revenge" in reference to Paula Radcliffe's famous public toilet break during the 2005 London Marathon.
He said: "I am therefore seeking private sponsors for the installation of statue involving an erect penis. It will be offered to Plymouth City Council as a piece of street art, in line with Bianca, with nil cost to the council.
"The public will be encouraged to visit, take photographs, even touch it (in an artistic sense), and I will ask that this piece of art be erected alongside the members' room of the [council offices], which approved Bianca," the Exeter Express and Echo reported.
Theatre Royal Chief Executive Adrian Vinken defended the installation: "We acknowledge that at this early stage the statue has some detractors who don't like it or even the very idea of it.
"Public art will be, and perhaps always should be, controversial. People's perceptions of what they think they like or don't like vary over time. The original protests about the Angel of the North were colossal and vociferous. Try to remove the Angel of the North now and you would get lynched.
"Bianca provides the city with an exceptional opportunity to build on strong recent cultural foundations. If all goes ahead, Bianca will signal change and change is always unsettling. That explains why some people might feel wary of it.
"Plymouth is a city of great global influence, which we must take pride in and celebrate. This heritage is one of the city's greatest assets and the Mayflower 400 leadership group are forging a modern, attractive future."