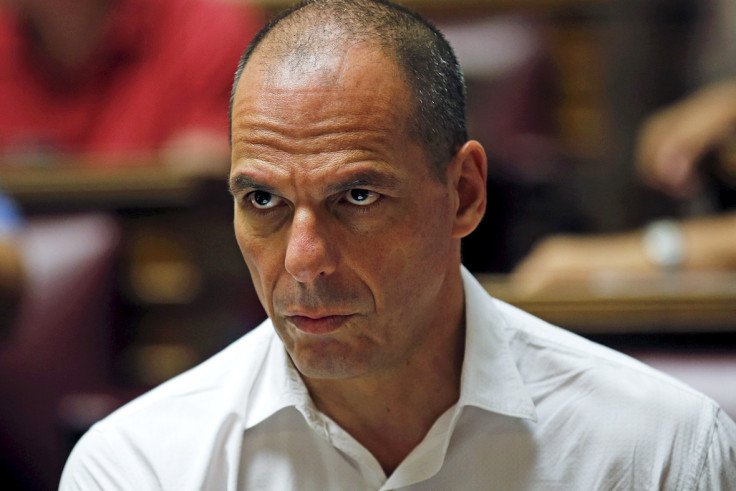 David Cameron could not resist cracking a cringe-worthy joke at Labour's expense during Prime Minister's Questions (PMQs) on 2 March, describing the main opposition party's economic plan as "Acropolis Now".
The jibe was a reference to shadow chancellor John McDonnell taking advice from former Greek finance minister Yanis Varoufakis. The Syriza anti-austerity star also spoke at one of Momentum's "People's Philosophy, Politics and Economics" lectures in Clapton, London.
"I can announce to the House his latest economic adviser, one Mr Yanis Varoufakis. He was the Greek finance minister who left his economy in ruins. That is Labour's policy in two words: Acropolis Now," the prime minister quipped.
Cameron delivered the line after an exchange with Jeremy Corbyn over the government's tax-free childcare plans. The Labour leader accused the prime minister of failing to deliver on his 2013 pledge to introduce the tax relief.
Corbyn's attack coincided with the publication of a National Audit Office (NAO) report, which said "significant progress" had been made in providing 15 hours of free childcare per week to parents of three and four-year-olds.
NAO childcare report
But the watchdog warned that the Department of Education has not "yet achieved full value for money".
Amyas Morse, the head of the NAO, added: "Many parents and children are benefiting from the entitlement to free childcare, but the Department does not yet know what long term outcomes it is getting for its investment of nearly £3bn a year.
"In rolling out the new entitlement the Department should use and evaluate its pilots to make sure that certain groups do not inadvertently lose out. It is particularly important that the number of disadvantaged two-year-olds accessing free childcare continues to rise, in line with the Department's own aspirations."
The government promised to increase the hours of free childcare to 30 hours in 2015, but the NAO warned that providers have "concerns about the levels of funding they will receive".
Cameron defended his government's record on free childcare and said relief would be completely rolled-out in 2017, while the switch to 30 hours will be completed in the same year.
"All of these things we are able to do because we've got a strong and sound economy. What a contrast it would be if we listened to the Right Honourable Gentleman," Cameron declared.
Corbyn replied: "That is not much help to the 41,000 children who are not benefiting from what they were promised by the government."