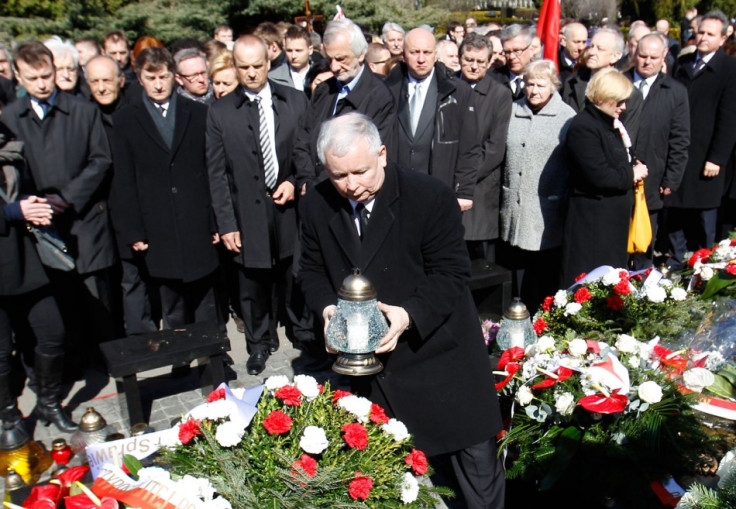 A total 83 bodies are to be exhumed and examined as part of a probe into the plane crash in Russia that caused the death of the then-president Lech Kaczynski and 95 other people in 2010.
A spokeswoman for Poland's top prosecutors said that autopsies have begun on the body of the president and of his wife, who was on-board along with several high-ranking Polish officials, including the central bank governor and top army commanders.
The investigation into what is considered Poland's biggest national tragedy in recent memory was ordered by Poland's conservative ruling party Law and Justice, led by Kaczynski's twin brother Jaroslaw, who was prime minister at the time of the incident.
A previous investigation found that the crash of the Soviet-made TU-154 plane was the result of human error as pilots attempted to land in heavy fog, but conspiracy theories alleging Russia's involvement in the crash abound, and Russia's refusal to hand over the remains of the plane add to the suspicions.
According to the Associated Press, the investigation aims to establish whether the crash in Russia was an accident or an assassination. Experts will examine the bodies for traces of explosives or injuries that could result from an explosion.
The sudden death of his twin took a toll on the surviving Kaczynski brother. He has worn a black suit and tie in public ever since and regularly visits his brother's grave. He rarely speaks to the press and shies away from the limelight, although he is widely regarded as the one who calls the shots in the party.
Speaking at a public event on 10 November, the day before Poland's independence day, Kaczyński reinstated the importance of the investigation: "There will not be a free Poland, a truly free Poland, without the truth, without a proper honouring of those who died, without a closure of this case which has cast such a long shadow on our national and social life," he said.