Dozens of MPs in Poland demonstrated in parliament on Friday (16 December) over alleged plans to restrict access for media to cover debates and proceedings. Thousands of protesters joined the ministers outside the building in support of their stand.
According to the new proposed rules put forward by the ruling Law and Justice (PiS) party, only five TV stations will be permitted to cover the sessions. The plan also limits the number of journalists allowed to cover parliamentary proceedings in Warsaw.
The opposition MPs objected to this and attempted to block the key vote on budget. They reportedly occupied the parliamentary podium in protest, but the budget vote was later held away from the main parliament chamber.
This is reported to have led the MPs to accuse the lawmakers of violating the constitution by illegally passing the budget for next year. It is thought to be the first time since Poland's transition from communism in 1989 that such a vote was held outside the main chamber.
"The 'sitting' was illegal. Period. This is a constitutional crisis," Civic Platform head Grzegorz Schetyna said on social media.
The opposition has called to hold the vote on budget to be held again in the main parliament chamber next week.
"There is no proof that a quorum of lawmakers was present. We suspect that people who were not allowed to vote took part," said leader of the opposition Nowoczesna party Ryszard Petru.
The late-night stand-off forced hundreds of police to be deployed in the parliament building, forcing them to break up the blockade of exits after several hours on Saturday (17 December) early morning local time.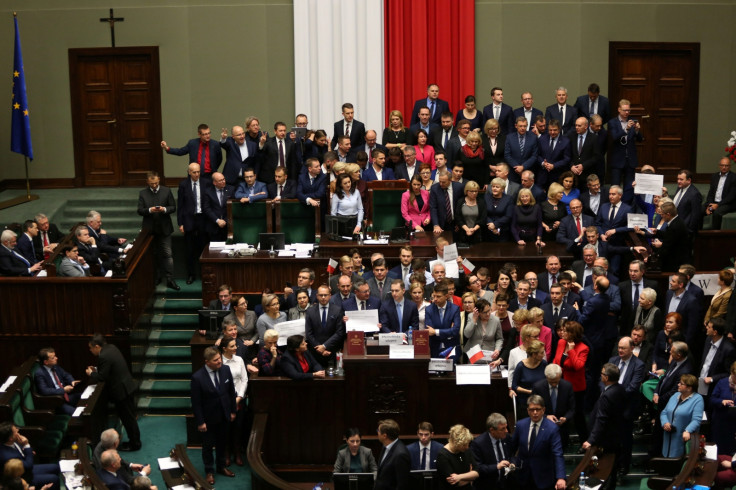 The protest is said to have sparked the sharpest escalation of clashes between the ruling Law and Justice (PiS) party and the opposition in recent years in the EU country, especially since the PiS party came to power in October 2015.
The move has drawn severe criticism from independent media houses as they see the new proposed rules as a clampdown on their freedom.
"PiS has crossed a certain line and nothing will be the same again," Reuters cited Tomasz Siemoniak, deputy leader of the biggest opposition party Civic Platform as saying, outside parliament.
Opposition party lawmaker Jerzy Meysztowicz accused the police of using tear gas to disperse the protesters, who reportedly blocked the convoy of cars carrying Prime Minister Beata Szydlo and the head of the PiS party, Jaroslaw Kaczynski from leaving.
However, Warsaw police spokesman Mariusz Mrozek denied the use of tear gas, but admitted they had to resort to physical force to clear off the protesters.
Starting midnight the gathering outside the parliament was declared illegal, Mrozek reportedly said.
Before leaving parliament, Kaczynski defended the budget vote and said it was legal and that it had the required number of MPs taking part in the process.
"What the opposition did was a scandal. And we were working," said PiS lawmaker Jaroslaw Zielinski.