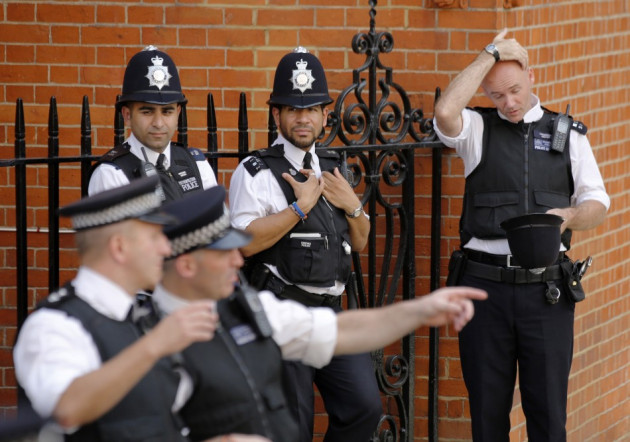 Starting salaries for police constables are to be cut by £4,000 to £19,000, while rank-and-file officers will receive a new £15 per day "on-call allowance" if they are deployed to help fight riots outside their force area.
Home Secretary Theresa May has announced the first overhaul in police pay and conditions for 30 years, following proposals put forward by former rail regulator Tom Winsor.
As part of the recommendations on reform made by the Police Arbitration Tribunal which were accepted by May, competence-related threshold payments (CPTS) - a bonus scheme in which those at the top pay scale will be rewarded if they can prove they are able to perform at a high level - will start to phase out over the next three years.
However, plans to bring in compulsory severance across all ranks still need to be negotiated.
Winsor, the first non-policeman to be appointed to the role of Chief Inspector of Constabulary for England and Wales, caused widespread anger among tens of thousands of officers when he first drafted the proposals, which have now been accepted by the home secretary.
Part of his recommendations was to cut £1bn from police pay.
May said the reforms were part of a programme to "modernise police pay and conditions so that they are fair to both officers and the taxpayer".
The cuts have been criticised by the Police Federation, which said the decrease in pay "fails to reflect the dangers and demands" of police work.
May said: "Existing police pay and conditions were designed more than 30 years ago which is why we asked Tom Winsor to carry out his independent review. Police officers and staff deserve to have pay and workforce arrangements that recognise the vital role they play in fighting crime and keeping the public safe, and enable them to deliver effectively for the public."
The Association of Chief Police Officers (Acpo) said as part of the plans to reduce the number of pay scales from 10 to seven, officers will be eligible for the top rate of pay three years quicker under the new reforms. Also, chief constables will be able to pay a wage of £22,000 to more experienced officers, such as those who have worked as special constables or PCSOs.
Steve Williams, the Police Federation of England and Wales' incoming chairman, said of the pay announcement: "While we remain disappointed with some of the PATs recommendations, we acknowledge that the home secretary has honoured the process of the Police Negotiating Board.
"We accept that today's decision by the home secretary is binding on the police federation of England and Wales and we will continue to engage fully on behalf of our members."
The Police Federation added: "The £4,000 reduction in the starting rate for new officers is ill-conceived and fails to reflect the dangers and demands inherent in the job. It could also serve to increase the gender pay gap in the police service."
Elfyn Llwyd, a member of the Commons justice select committee, described the cuts as "historically low".
Communities in jeopardy
He added: "These repeated attacks on funding for vital public services are counter-productive and grossly unfair.
"The police service throughout the UK does a fantastic job but both the reputation of these forces and the safety of communities are in jeopardy due to the Coalition's unsustainable budget cuts and proposed changes in working practices which will undermine the morale of hard-working officers."
Chief Constable Peter Fahy, Acpo lead on workforce development said: "In a service where over 80 percent of budget is spent on people, it is more vital than ever that we have terms and conditions for all staff that both reward them for what they do and represent value for money.
"Acpo was concerned about the starting salaries range proposed and the outcome of these negotiations means that chief constables will now have the flexibility to pay a starting salary of up to £22,000 depending on skills and qualifications. Officers can also reach the top rate of pay three years earlier than under the current arrangements.
"Police service funding has already been considerably reduced and further financial pressure lies ahead. Chief constables must have the means available to them to manage their workforce through these difficult times, even if that means taking steps that are unwelcome. The slow pace of progress through current pay machinery both hampers the ability to secure reform and prolongs uncertainty for officers and staff.
"We will continue to support the process and hope more progress can be achieved in negotiations ahead."