A man has been shot by police at Dallas Love Field Airport after he was seen throwing rocks at a woman. A stand-off occurred as police intervened in what is believed to be a domestic dispute between a male suspect and the mother of his children.
The man had reportedly smashed the windows of a nearby vehicle and was attacking the woman. After the suspect refused to back down, the officer fired his gun several times, hitting him at least once.
In a statement Deputy Chief of Police Randall Blankenbaker said: "The black male suspect used rocks to attack the lady and during the disturbance one of our officers came to the aid of the lady and he was rushed by the gentleman with the rock.
"He was able to separate himself from the individual but the individual came towards him and he discharged his weapon several times."
An eyewitness at the scene posted a video of the incident on social media. Eight gun shots can be heard as an officer in a yellow vest stands with his weapon drawn, while bystanders are seen frantically running away from the airport. A man can be heard shouting "Stand down!" amid screams from passers-by.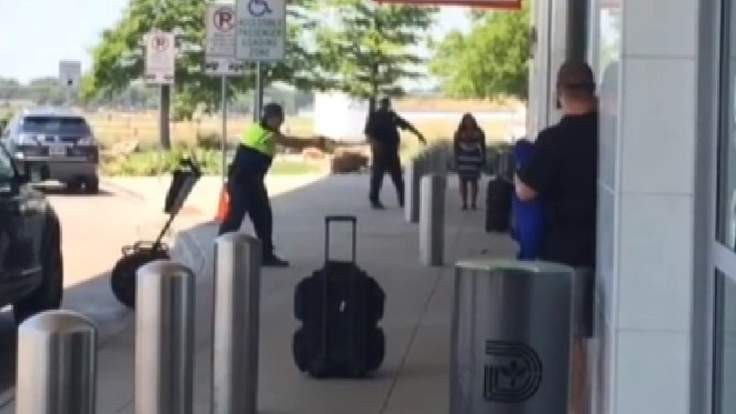 The suspect was conscious as he was transported to a local hospital where his condition is unknown, USA Today reports. A black car with smashed windows has been cordoned off near the scene.
Dallas Love Field, the smaller of the two major airports in the Dallas area, is located in the northwest portion of the city. According to Sky News, part of the airport was closed for a short time after the shooting near the baggage reclaim area.
Travellers who had rushed through security during the shooting, were required to go through the screening process again, causing long delays.