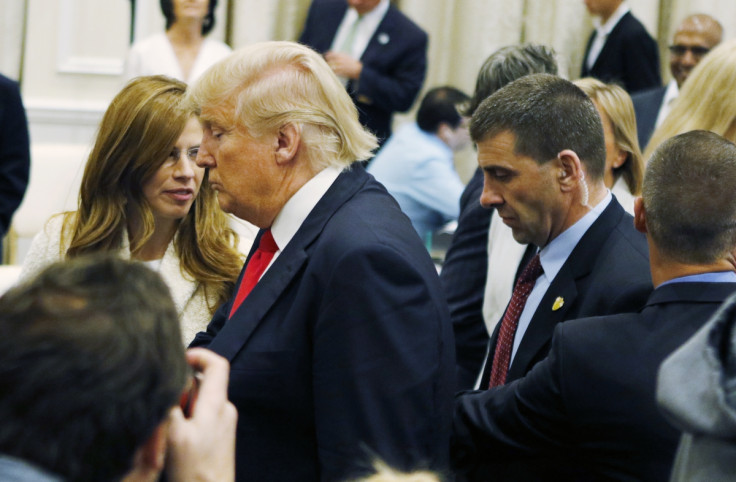 Police are investigating a series of death threats against the female reporter who filed a police complaint against Donald Trump's campaign manager, accusing him of grabbing her at a political event.
Corey Lewandowski was charged with misdemeanour battery after Michelle Fields said he grabbed her arm and roughly yanked her away from Trump as she was asking the candidate questions following a press conference in Jupiter, Florida, near Palm Beach. Since pressing charges, Fields has been rattled by death threats.
"If I find you Michelle, I'm going to kill you," said one individual who called her on the phone, The Blaze reported. He told her that she had 36 hours to drop the charges against Lewandowski or he would "slit" her throat. Fields calmly stayed on the phone in the audio tape. "OK, you have serious issues," she told the caller.
"I'm going to stab this knife in your heart, just wait," another threat read on Instagram. "I know where you live."
"You are dead, b***h," said another threat. "I have someone watching your every move. See you at the morgue."
Lewandoski is due in court in early May to answer the battery charge.
Donald Trump has defended his campaign manager, saying Lewandowski was protecting him from the reporter, who was "grabbing" at Trump's arm, according to the candidate. Video of the incident released by police, however, shows Lewandowski reaching for Fields' arm.
At a CNN town hall-styled question-and-answer session with Anderson Cooper, Trump said Fields' pen could have been a "little bomb."
Fields was working for Breitbart, a conservative online news organisation when the March incident with Lewandowski took place. She later quit because she said Breitbart did not defend her over the confrontation.
Ben Shapiro, the former Breitbart editor-at-large also resigned, claiming that the news outlet – seen largely as supportive of Trump's presidential bid – "abandoned" Fields "in order to protect Trump's bully campaign manager."