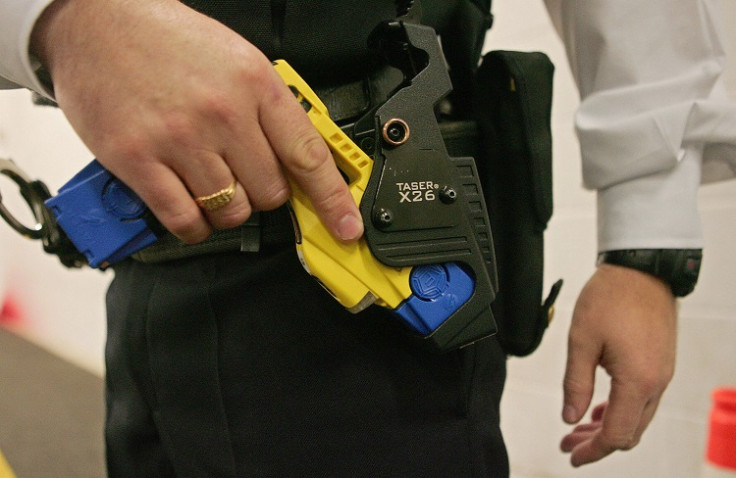 A police watchdog has found that officers who tasered a man with a knife 11 times, hit him with a patrol car and then shot him before his arrest were using reasonable force.
Officers from London's Metropolitan Police (MET) offers fired on Joseph Hive multiple times with the police-issue stun gun on 8 October 2015.
Hive was spotted in the street in Brent, north-west London, wielding two blades and was later charged with robbery and other offences.
He was later convicted of possession of offensive weapons and common assault, the Independent Police Complaints Commission (IPCC) said.
The IPCC said Hive had been acting violently before he was searched by a police officer, who felt the blade of a large knife through Hive's clothes.
When he resisted arrest, police left the building for their safety, until further units arrived. Before he was taken into custody, Hive was repeatedly shot with a Taser, which apparently had no effect.
Officers then struck him with a patrol car, at a speed of no more than nine miles per hour, before shooting the 30-year-old who was taken to a nearby hospital with chest and arm injuries.
An investigation by the IPCC found that officers had used "necessary and proportionate" force in apprehending Hive as he refused to cooperate with police.
IPCC Commissioner Cindy Butts said: "Officers were faced with a man armed with knives who seemed intent on using his weapons on a public street. They needed to stop him from causing serious injury or death to them, a member of the public, or himself.
"Taser was fired a total of 11 times. The man was found to be wearing extra clothing, which we believe reduced the effectiveness of a Taser on at least one occasion. Yet he still posed a real danger to officers, leaving them with no option but to use further force."
The watchdog said that officers reported he had refused to drop either of the blades in his possession and thus was a danger to himself and others.
In his possession was a bread knife, a carving knife and a screwdriver, the IPCC said.
Butts added: "In the course of this investigation we took accounts from officers, witnesses and the man who was shot by police. More than 70 witness statements were taken, and CCTV, body-worn video and footage from police vehicles was examined. Downloads from Taser, radio and telephone transmissions were assessed and considered in the course of the investigation.
"It is essential that any situation in which potentially lethal force is used is independently investigated."
​