In what is probably the last official meeting between the US and Russian presidents, the two heads of state discussed finding a solution to the prolonged crisis in Ukraine. Barack Obama and Vladimir Putin shared a short conversation during the Asia-Pacific Economic Cooperation (Apec) Summit in Peru, about reaching a settlement regarding the east European country and ending the domestic violence.
Speaking to the press on the sidelines of the summit, Obama said: "I talked to him about Ukraine and the need for us to get things done."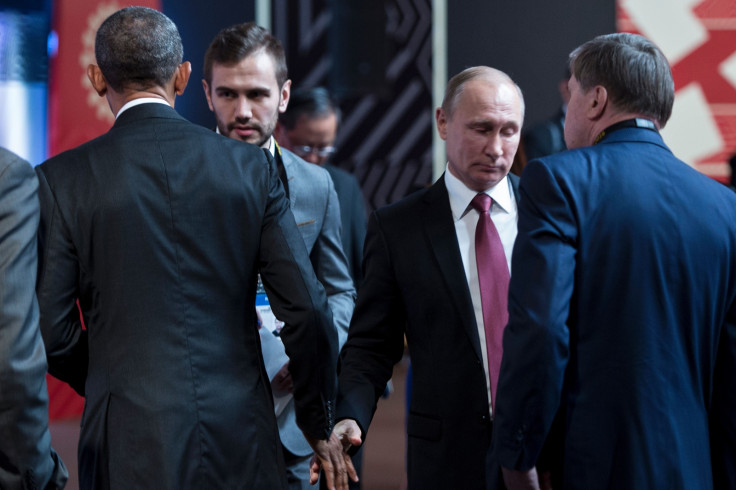 "I urged him to instruct his negotiators to work with ourselves, with France, with Germany, with Ukraine to see if we can get that done before my term is up."
Speaking at a another press conference in Lima, Putin did not reveal details of the four-minute conversation with Obama but thanked him for the cooperation between their two countries and "for the years of joint work".
"I told him that we would be happy to see him in Russia anytime if he wants, can and has desire", the Russian president said.
In 2014, Russia annexed Crimea from pro-western Ukraine and continues to back a separatist, pro-Moscow insurgency in eastern Ukraine which has already cost the lives of close to 10,000 people. Witnesses claim that the Putin administration has also sent troops and weapons across its border to fuel the conflict, but Moscow has denied all allegations.
In October, German Chancellor Angela Merkel and French President Francois Hollande launched efforts to revive a stalled peace process during talks with Putin.
Ukraine's political crisis which began in November 2013 has had far-reaching economic and social consequences, both on the domestic and global scene. According to the World Bank, the economy of Ukraine contracted by 8% during 2014 and a February 2016 BBC report suggested that the country continues to be gripped by corruption with low-level fighting in Donbass (the Donetsk and Luhansk oblasts) between pro-Russian and anti-revolution activists.
Putin and Obama also briefly discussed the situation in Syria, and according to a White House official, the US president urged the foreign ministers of both countries "to continue pursuing initiatives, together with the broader international community, to diminish the violence and alleviate the suffering of the Syrian people".