Police stood by and did nothing as a pregnant woman was stoned to death by her own family in Pakistan, it is claimed.
Officers watched as the attack happened outside a court house in Lahore, according to the woman's bereaved husband.
Farzana Parveen became the latest victim of so-called 'honour killing' in Pakistan, after relatives rejected her for marrying Muhammad Iqbal.
The case has caused an outcry among commentators in Pakistan, but has been greeted with indifference by the country's popular press.
The killing happened after Iqbal and his wife attended court to fight a claim of abduction lodged against him by her family.
Recalling the incident, Iqbal branded the lack of response by the authorities as "shameful."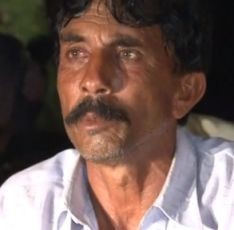 He said: "it was very bad, what happened, very bad. Police were silently watching. We shouted for help, but nobody listened.
"One of my relatives took off his gloves to capture police attention, but they didn't intervene. They watched Farzana being killed and they didn't do anything.
"A naked man was crying for help in front of the high court, but nobody bothered. It's shameful. It's inhumane. We even called the police helpline, but they said it was a wrong number."
Parveen's father handed himself into police after the attack, but other attackers remain at large.
Local police chief Mujahid Hussain said: "We arrested a few of them and others are currently being investigated."
Iqbal claimed his in-laws were continuing to threaten him and to snatch Parveen's body.
Last year in Pakistan, an estimated 869 women died in so-called 'honour killings.'