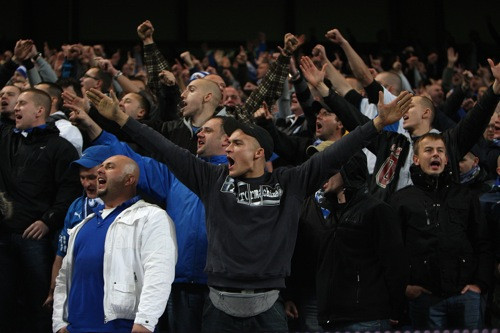 Polish municipal prosecutor Monika Rutkowsk has declared that anti-Semitic chants by football fans during a Polish league match were not criminal offences.
Lech Poznan supporters chanted to opposing team Widzew Lodz: "Move on, Jews! Your home is at Auschwitz! Send you to the gas [chamber]!" during a match in September 2013.
According to Rutkowsk, the anti-Semitic slurs were directed at the Widzew Lodz players and not specifically at Jews, and were made in the context of a sporting event rather than a discussion of political or social issues.
The not-guilty verdict was condemned by Open Poland, an organisation that combats xenophobia and anti-Semitism.
By this logic,Open Poland's spokeswoman Agnieszka Gliszczyńska-Grabiec said, the prosecutor would only find indications of anti-Semitism "if bearded Jews wearing skullcaps and black coats were sitting in the stands."
The civil rights and human relations agency Anti-Defamation League urged the Polish government to rectify the recent decision.
"Ms Rutkowska's twisted reasoning cannot stand. Anti-Semitic incitement is illegal in Poland, and these chants are clearly anti-Semitic," said Abraham H. Foxman, ADL National Director.
"Responsible government officials must rectify this absurd decision and ensure that those who chose to insult the memory of the victims of the Holocaust are held responsible for their pernicious and illegal actions," Foxman added.
In a letter to Poland's Foreign Minister Radosław Sikorski, Foxman called on the Polish government to intervene and overturn the municipal prosecutor's decision.
The Poznan chants have sparked debate over the country's attitude towards anti-Semitism. According to Polish football writer Michal Zachodny, there is not a concrete will to fight anti-Semitism in the Polish football industry.
"Although the PZPN, the Polish Football Association, has introduced stricter laws and are more proactive in dealing with such problems than they were, there is no plan, no willingness to do anything with the problem," Zachodny told CNN.
"There is no special police line to report abuse anonymously."
Lech Poznan's management chose not to take any action against the racist fans.
"We neither defend the offenders nor will we act against them," they said, adding that the club is neither the prosecutor's office nor an independent tribunal.
Lech Poznan fans have made similar anti-semitic remarks before. In two other incidents, the Polish soccer association imposed fines on offending fans.