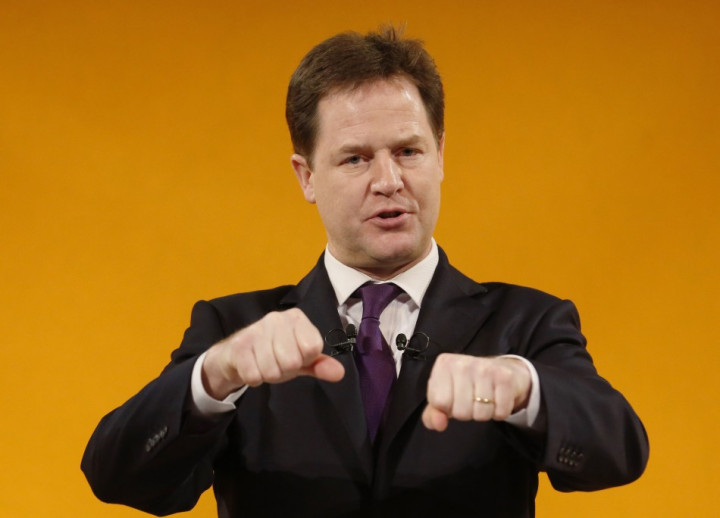 Nick Clegg has vowed to clean up parliament in the wake of a new lobbying scandal.
Deputy prime minister Clegg set out plans to create a register of lobbyists and also hand voters the power to kick out MPs who misbehave between elections.
But his proposals were written off by as "tin-pot" and undemocratic by his coalition allies.
Clegg voiced his concerns after two Labour peers were suspended from the House of Lords for apparently agreeing to ask questions in exchange for cash.
Lord Laird resigned from the Ulster Unionist Party after getting caught out in a sleaze sting by journalists.
The scandals came just days after Tory MP Patrick Mercer quit the Conservative party after being filmed seemingly agreeing to ask questions in the House of Commons about Fiji in return for a payment.
Clegg insisted UK politics was "crying out for head-to-toe reform" to make a "cleaner, better politics."
"Westminster remains a place where power is hoarded, decisions are opaque, and the people who take those decisions are not properly held to account," he said.
He rapped the Conservatives for not pushing ahead with House of Lords reform in 2011.
"Any MP guilty of serious misconduct could be forced to resign if enough of their constituents wanted them to," said Clegg about a recall mechanism to allow voters to remove an erring politician from office.
On a register of lobbyists, Clegg said: "Clearly there are instances where access is abused - further undermining the already weak public trust in our institutions - and greater transparency is a key part of the antidote."
But Tory MP Douglas Carswell said the recall mechanism belonged in a "tin-pot republic".
"The government's recall proposal does precisely the opposite of what a real recall mechanism should do. It concentrates power into the hands of party whips in Westminster, rather than passing it out to the people," he said.
"That's the sort of scheme one might expect to find in a tin-pot republic, not a genuine democracy."
Clegg's call came as Liberal Democrat Lord Oakeshotte employed unparlimentary language in describing the House of Lords as a "stinking swamp".
Prime minister David Cameron branded lobbying as politics' "next big scandal" before the 2015 general election. Tackling the issue was a Conservative manifesto pledge but no register has been created to tackle the issue.