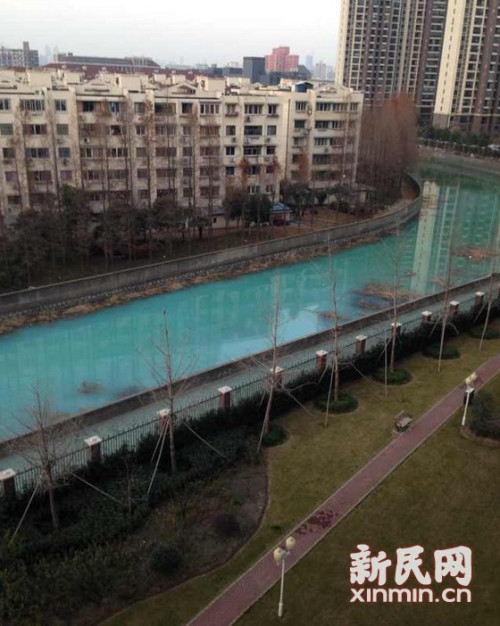 Residents living near a water plant in Shanghai woke up to find the river had turned a mysterious and weird bright blue colour.
The water had turned a sky blue colour and appeared extremely polluted, a local named Hu told China's Xinhua news agency.
It emerged the bright blue water was a result of the Changqiao Water Plant in Shanghai's Xuhui District releasing coloured waste water into the a river near Chunshen Harbor, which links the Dingpu and Huangpu rivers.
"The colour looks weird and we're wondering whether the water quality from the plant will be affected," Hu said.
The water planet supplies water to the downtown area and gets its supplies from the Qiangcaosha Reservoir on the Yangtze River.
Other discharges from the plant have resulted in the river turning yellow or black, Hu said.
The Xuhui Water Authority said that while the water is not toxic and meets water standards, it has warned the water plant to improve its discharge system.
An official from the water authority said the blue colour had been caused by chlorine. "The blue and green is from chlorine disinfection used in tap water and does not pollute the river," the official said.
"The water authority has told the plant to overhaul its discharge system and there are plans to dredge the river near Chunshen Harbor," said the Xuhui Water Authority official.
Improvements to the discharge system should stop waste water turning funny colours, while dredging will help the outflow to disperse a larger volume of water.
In 2012, reports emerged that the Jian River in Luoyang, China had turned into a "river of blood" as a result of illegal dye dumping by a nearby chemical plant.
The river, which runs through the Luoyang in the Henan province, was a reddish colour for several days before officials tracked the source of contamination.
Locals said they were not surprised as the river regularly changes colour because of pollutants domestic waste being dumped into it, with residents saying it had turned dark green in the past.
According to eastday.com, over half of Shanghai's rivers and lakes are heavily polluted and their beds seriously contaminated. Only three % of rivers and lakes achieved better than grade III, indicating the water can be used by residents and for aquaculture.