Pope Francis blasts 'new colonialism' of austerity in fresh attack on capitalism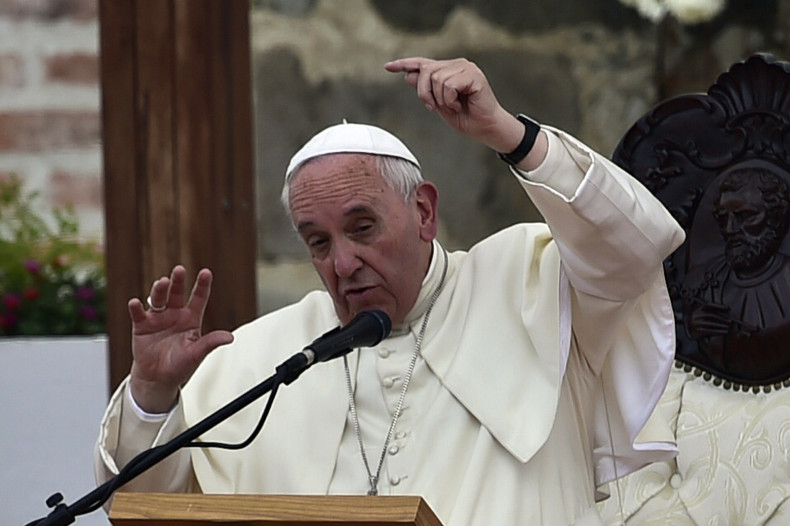 Pope Francis renewed his criticism of capitalism in an impassioned speech in the Bolivian city of Santa Cruz, where he called for the creation of a new world economic order.
Addressing the second world meeting of popular movements, the leader of 1.2 billion Catholics denounced the "new colonialism" of agencies that demand austerity programmes and poured scorn on "the mentality of profit at any price".
"Do we realise that something is wrong in a world where there are many farm workers without land, so many families without a home, so many labourers without rights, so many persons whose dignity is not respected?" the Pope was quoted as saying by Reuters.
"Do we realise that system has imposed the mentality of profit at any price, with no concern for social exclusion or the destruction of nature?
"If such is the case, I would insist, let us not be afraid to say it: we want change, real change, structural change. This system is by now intolerable."
Pope Francis has critiqued capitalism in the past but the remarks in Santa Cruz represent his strongest criticism yet of the free market system.
The pontiff also directed his ire at international lenders who demand harsh austerity in return for debt relief as the economic crisis rages on in Greece.
"No actual or established power has the right to deprive people of the full exercise of their sovereignty," he said.
"Whenever they do so, we see the rise of new forms of colonialism which seriously prejudice the possibility of peace and justice.
"The new colonialism takes on different faces. At times it appears as the anonymous influence of mammon – corporations, loan agencies, certain 'free trade' treaties, and the imposition of measures of austerity which always tighten the belt of workers and the poor."
Colonisation of Latin America
In a lengthy speech, the Pope asked for forgiveness for the actions of the Conquistadors against indigenous people during the conquest and colonisation of Latin America.
"Many grave sins were committed against the native peoples of America in the name of God... I humbly ask forgiveness, not only for the offences of the church herself, but also for crimes committed against the native peoples during the so-called conquest of America," he said.
The Pope travels to Paraguay on 10 July, the third and final stop of his tour of South America.