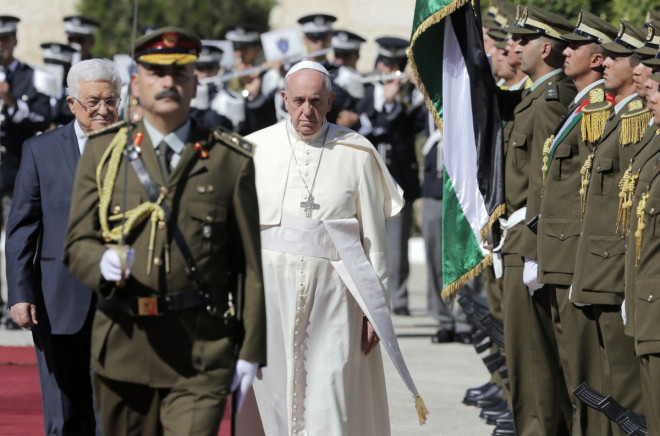 Pope Francis has called for immediate steps to end the prolonged bloodshed in Syria as he began a four-day tour of the Middle East aimed mainly at lifting the sagging spirit of believers in a region where Christianity was born.
Before arriving in Bethlehem in the Israel-occupied West Bank on the second day of his tour, the pope praised Jordan's King Abdullah as "an artisan for peace," saying the monarch made efforts to create "lasting peace for the entire region".
In Amman, the spiritual leader of more than a billion Catholics called for a peaceful solution to the Syrian crisis and "a just solution" to the Israeli-Palestinian conflict.
Jordan has hosted a large number of people who fled the violence in neighbouring Syria. A large number of Christians have fled Syria in the aftermath of the rise of the hard-line Islamic outfits fighting the regime of President Bashar al-Assad.
Francis called for religious rights of all peoples to be protected, echoing concerns raised by Christians in strife-torn Syria.
"Religious freedom is in fact a fundamental human right and I cannot fail to express my hope that it will be upheld throughout the Middle East and the entire world," he said.
As many as 20,000 believers thronged a stadium in Amman to attend a Mass led by the pope.
On Sunday, about 8,000 people are expected to attend a Mass the pope will hold in the Church of the Nativity in Bethlehem.
Later he will travel to Tel Aviv, where he will be welcomed by Israeli President Shimon Peres.
Later in Jerusalem, the pope will attend a function commemorating the 50th anniversary of a pact made between Catholics and the Orthodox Church.
He will also meet the Grand Mufti of Jerusalem and celebrate mass at the foot of the Mount of Olives.