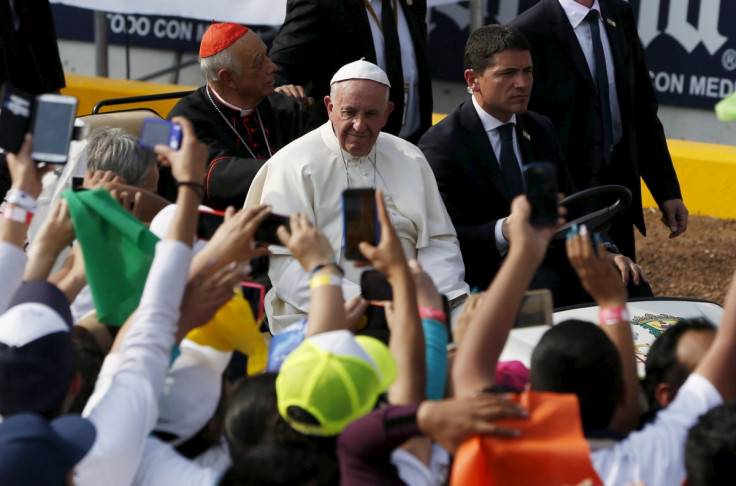 Pope Francis manages to keep his calm, serene persona in almost any situation. But during his visit to Mexico the pontiff lost his cool when a well-wisher in the crowd knocked him over.
While visiting the city of Morelia in western Mexico on 16 February, the pope spent some time wishing fans and the faithful that collected in and around the Jose Maria Morelos y Pavon stadium where he attended a performance by traditional dancers and singers and spoke to the youth about steering away from lives of crime.
Based on footage of the incident, Francis was waving out and shaking hands with the locals when an individual from the crowd held onto him dragging him off balance. He landed up falling on a child in a wheelchair next to him.
The pope's security was quick to respond and prevented him from falling to the ground. As Francis straightened up he looked to the person responsible for the accident and said in a raised voice: "Don't be selfish" in Spanish.
He managed to recover himself soon after but took a few steps back from the growing crowd.
Pope Francis has taken big steps to bring himself closer to the public. One of his earliest decisions was to get rid of the enclosed Popemobile for an open top car from which he could continue to interact with people.
The pontiff will end his five-day Mexico trip on 17 February with a visit to the Ciudad Juarez prison where he will address the inmates and staff on issues of violence and crime. Then he will head to the Texas border where he will meet people dealing with the issues of illegal immigration.