Pope Francis is on a five-day visit to Mexico. Wherever he has gone, huge crowds of the Catholic faithful have lined his route. Vatican officials estimate as many as one million people came out to catch a glimpse of the Pope during the first full day of his visit. The 79-year-old has had an exhausting schedule, with back-to-back public events and a seven-hour time zone difference.
The mileage that he is clocking standing up in his open-air Popemobile is a testament to his appreciation of Mexico's need to see him up close: After a 14-mile night-time journey from the airport and the nine miles logged on Saturday morning (13 February), he still had about 93 miles more to go before his trip ended.
Mexico is doing a roaring trade in Pope memorabilia. T-shirts emblazoned with the Pope's image are everywhere. Vendors are selling his image printed on just about any item imaginable: flags, posters, towels, scarves, pens, the ubiquitous life-sized cutouts – and lottery tickets.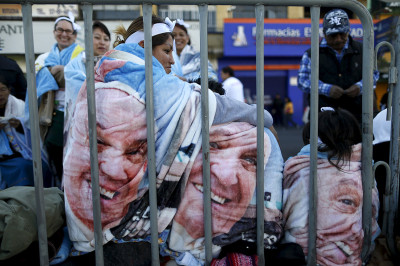 The Pope's trip to Mexico is shining an uncomfortable spotlight on the church's shortcomings and the government's failure to solve entrenched social ills that plague many parts of the country — such as poverty, drug-inspired gangland killings, extortion, disappearances of women, crooked police and failed public services.
Speaking in his native Spanish before bishops inside Mexico City's main cathedral, the Argentine pontiff urged religious leaders to do more to help migrants, "pouring balm on their injured feet" through social and charity programmes. According to government statistics, about 46% of Mexicans were living in poverty in 2014.
Francis brought a message of encouragement on the second full day of his trip to residents of Ecatepec, a poverty-stricken Mexico City suburb of some 1.6 million people where drug violence, kidnappings and gangland-style killings, particularly of women, are a fact of life. The Popemobile passed a colourful graffiti mural celebrating his visit.
Celebrating mass for more than 300,000 people in one of Mexico´s poorest and most dangerous cities, Pope Francis took a swipe at the country's rich and corrupt elite . Decrying "a society of the few and for the few", he denounced deep inequality and the vanity and pride of those who consider themselves a cut above the rest.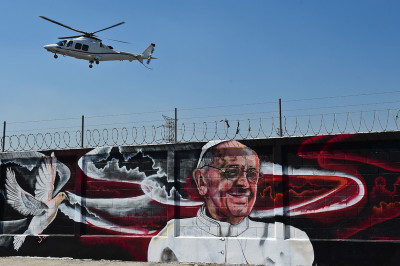 Pope Francis is due to pay tribute to Mexico's indigenous peoples with a visit to Chiapas state, where he will preside over a mass in three native languages thanks to a new Vatican decree approving their use in liturgy. But the visit, at the midway mark of Francis' five-day trip to Mexico, is also aimed at boosting the faith in the least Catholic state in Mexico.
History's first Latin American pope has already issued a sweeping apology for the Catholic Church's colonial-era crimes against the continent's indigenous. He will go further by celebrating their culture in ways the local church hierarchy has often sought to play down, in a clear demonstration of his belief that the indigenous have an important role to play in Mexico today.
The pope will also meet with young people in Morelia, the capital of Michoacan state, where drug gangs and armed vigilante groups have waged a bloody conflict. He will then conclude his trip in the notorious northern border city of Ciudad Juarez, where he will address the tide of illegal immigration into the US, meet relatives of victims of violence and visit a prison.