Pope Francis will return to Italy from the Greek island of Lesbos with 12 Syrian Muslim refugees, the Vatican has confirmed. The religious leader called on the world to show "common humanity" in dealing with the refugee crisis as he visited a refugee camp where thousands of people are being detained.
The people include three families and six children. In a statement, the Vatican said the Catholic leader wanted "to make a gesture of welcome", according to the Associated Press.
The Vatican will be responsible for looking after the families with help from the Community of Sant'Egidio – the Catholic Church's association of lay members – who will help them settle in.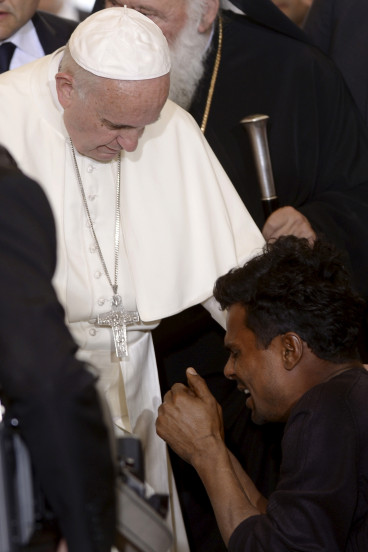 "I wanted to be with you today. I want to tell you that you are not alone," the Pope said in a message of solidarity as refugees queued to meet and shake hands with him.
"In these weeks and months, you have endured much suffering in your search for a better life. Many of you felt forced to flee situations of conflict and persecution for the sake, above all, of your children, the little ones," he added.
Around 3,000 people are being held in the Moria detention centre. The head of the Church of Greece said Catholic and Orthodox leaders are supporting one another to condemn the uprooting of people which turns them into refugees, as well as their devaluation as human beings by the international community.
"Unfortunately, it is not the first time we denounce the politics that have brought these people to this impasse," the Archbishop of Athens, Ieronymos II said. "We will act however, until the aberration and depreciation of the human person has stopped."
He added: "Only those who see the eyes of those small children that we met at the refugee camps will be able to immediately recognise, in its entirety, the 'bankruptcy' of humanity and solidarity that Europe has shown these last few years to these, and not only these, people."
A particularly poignant moment of Pope Francis' visit came when one man in a flood of tears knelt before him and said: "Thank you, God. Thank you! Please Father, bless me!"