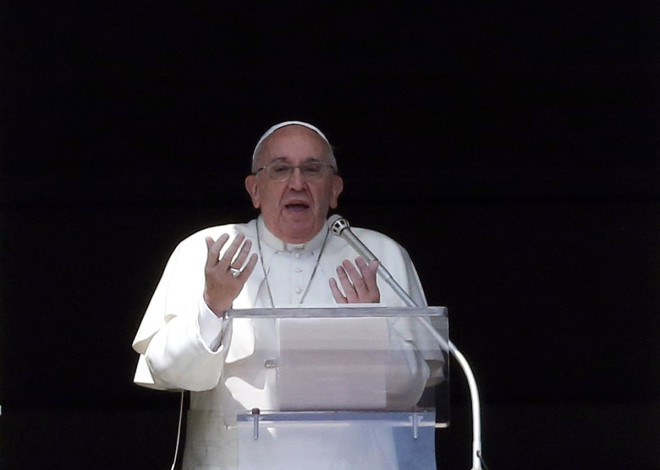 In an annual speech to commemorate hundreds of people murdered by the Italian mafia, Pope Francis told mobsters to change their ways or be condemned to the fires of hell for eternity.
Mob murders are still common in much of southern Italy. On Monday, a four-year-old boy was shot dead, together with his mother and her boyfriend in the city of Taranto in a suspected Mafia killing.
At the end of the special ceremony in Rome, the relatives of the murdered read out the names of around 900 suspected mafia victims.
In a stinging attack, the Pontiff said the mafia "has no pity even for a child".
"You have power and money now from much dirty business and many mafia crimes - it is blood money and blood power, and you can't take it with you to the afterlife," Francis said in a Rome parish church packed with almost 900 relatives, many of whom held pictures of their slain loved ones.
"Men and women of the mafia, please change your lives. Convert. Stop doing evil ... There's still time to stay out of hell. That's what's waiting for you if you stay on this path."
The Pope speaking out against organised crime is an important gesture, as Mafia bosses often try to cultivate close ties with local priests.
Even more importantly, it is the first time a pope has attended the annual event – now in its 19th year – which is held on the first day of spring.
Spring is "a sign of hope and rebirth," Turin priest don Luigi Ciotti told Reuters. He founded the anti-mafia group Libera, which organises the ceremony.
Also speaking out was Viviana Matrangola, the daughter of Renata Fonte, a city council member in the small southern town of Nardo who was shot to death by the mafia in 1984. "My mother lost her life in the name of democracy, in the name of freedom, and for her commitment to civil society," she said.
Italy's main crime groups - Sicily's Cosa Nostra, Calabria's 'Ndrangheta, and the Camorra are estimated to have a joint annual turnover of 116 billion euros ($159.89bn), according to a United Nations report.
Threats against local government officials have risen 66% since 2010, when the figures were first collected, according to a report published on 21 March.
Intimidation used by the mafia include setting fire to officials' cars, threatening letters – as well as threats posted via Facebook or email.
Around 41 local administrators have been assassinated by the mafia over the past hundred years, said Avviso Pubblico, the anti-mafia group.