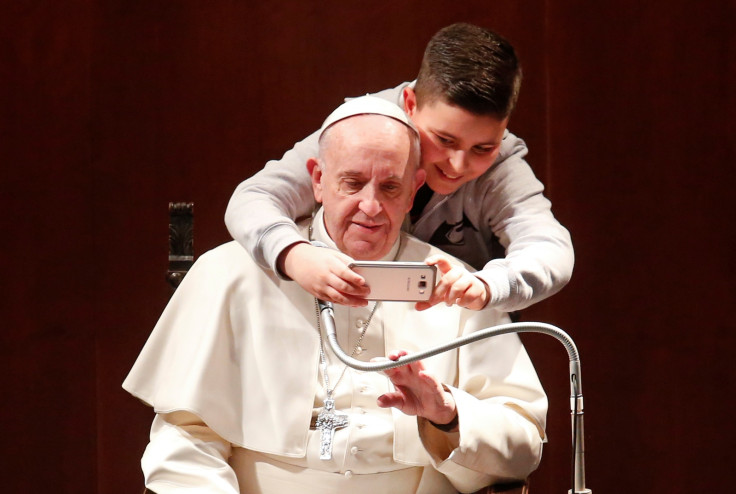 Pope Francis may be the most tech-savvy pontiff to head the Vatican with his Twitter and Instagram accounts, but he is clearly opposed to bringing phones to the dinner table. Speaking to students at the Roma Tre University, the pontiff issued a rather dire warning – that using mobile phones during meals with other people could bring violence.
"When we're at the table, when we are speaking to others on our telephones, it's the start of war because there is no dialogue," he told the young audience, echoing a statement he made last year saying that communication between family members is lost due to technology's interference.
"In our families, at the dinner table, how many times while eating, do people watch the TV or write messages on their cell phones. Each one is indifferent to that encounter. Even within the heart of society, which is the family, there is no encounter," Francis said last September during a homily.
In 2015, he urged people to restore interaction at family meals while speaking to a congregation at St Peter's Square. "A family that rarely eats together, or a family where no one speaks, opting instead to watch television or look at smartphones, is not much of a family," he said.
"Families should speak at the table. They should listen. No silence! I'm not talking about a reflective silence; this silence is one of selfishness. Everyone does their own thing. One watches television, someone is on the computer and no one talks. No! No more silence. Let's restore family interaction."
During his university visit, he also expressed concerns regarding the youth's lack of manners. "We need to lower the tone a bit, speak less and listen more," he said, adding that people need to be kinder and more polite towards one another. "Dialogue which brings hearts closer together [is] a medicine against violence."