Soldiers accused of participating in a failed coup to overthrow the government and assassinate President Recep Tayyip Erdogan went on trial on 20 February, with prosecutors demanding that the 47 individuals be given life sentences.
According to the indictment made available to Reuters, the suspects have been charged with attempting to kill the president, breaching the constitution and belonging to an armed terrorist organisation. Three of the suspects who escaped arrest are being tried in absentia.
The accused were brought to the court in the south-western city of Mugla under heavy security which included snipers in surrounding buildings and numerous armed guards. As the soldiers were escorted to the courthouse, supporters of the president held banners and shouted: "We want the death penalty."
Huseyin Aydin, the lawyer representing co-plaintiff Erdogan, said he was hoping the accused would receive the heaviest sentence.
During the trial, one of the first defendants denied that they had any plans to assassinate the president. "My mission was to take the president and bring him to Akinci air base safe and sound," Gokhan Sonmezates told the court. Akinci is a base outside Ankara which was being used by those organising the coup.
In his testimony, another suspect Sukru Seymen admitted his involvement. "Yes, I conducted a coup. I followed the order I was given and I am not going to sit and cry like a child over that. Even if I get the death penalty, it won't hurt me," the former major confessed.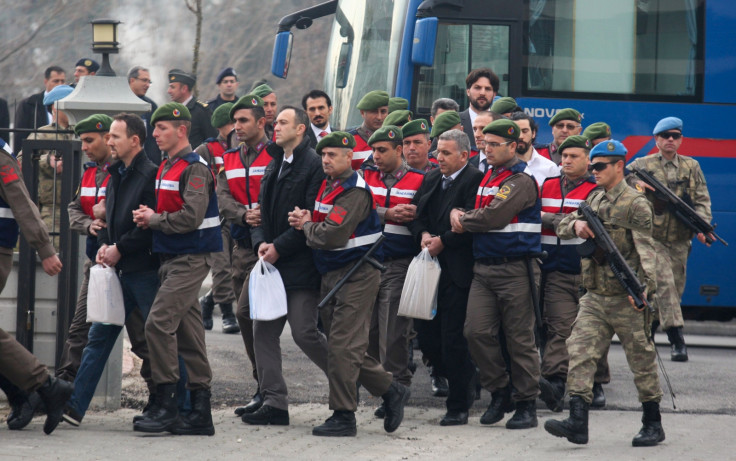 In July 2015, rogue members of the military commandeered tanks, warplanes and helicopters, and attempted to attack parliament. At the time, Erdogan was on vacation with his family in Grand Yazici Club Turban, a luxury Aegean resort in Marmaris, and managed to escape before the soldiers broke into the hotel. More than 240 people were killed during the failed coup and over 40,000 were arrested.
Turkish authorities believe the attack was orchestrated by US-based Muslim cleric Fethullah Gulen. However, he has denied all charges and a number of the accused soldiers also claim that they were not working for Gulen.