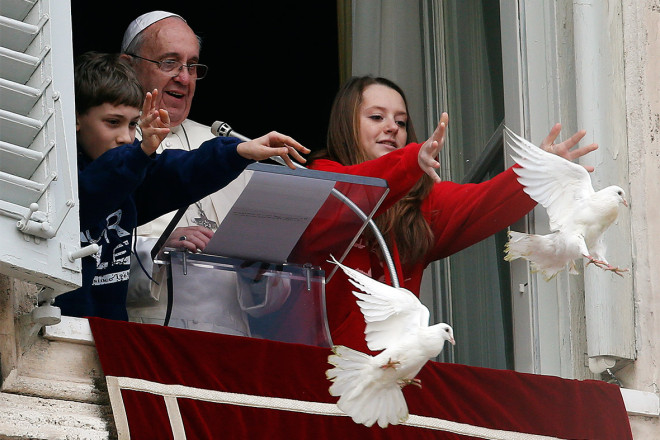 The Vatican has hired a hawk to protect the Pope's doves - or so a story being carried by a number of mainstream news outlets would have you believe.
Weekly Catholic magazine Credere – or Believe in Italian – wrote this story after the Vatican made the announcement as an April Fool's joke, which it fell for hook, line and sinker.
In the story, Credere reported how the hawk, named "Sylvia", was specially trained in northern Italy. The hawk had apparently been purchased in reaction to an incident in January, where two doves released by Pope Francis were attacked by a crow and a seagull.
Rome-based falconer Gabriele Siccardi said the bird of prey might need to grow before it could take on large birds, according to the report.
"It's a young one. I would say about a kilo. If it takes on a seagull, it's dead," he said and then added that the bird would "easily" overcome a crow.
'What I would do is train it to intimidate the other birds, not to kill them. There won't be a lot of corpses in the Vatican," he concluded.
A Vatican official told AFP the report was an "April Fool's joke they picked up."
However, it was too late for Credere and several other news websites, including the Washington Times and the Global Post, which also reported the news without realising it was a hoax.
Doves are traditionally released from the Vatican a few times a year as signs of peace.
During the January incident, as soon as the birds had been set free in St Peter's Square – as a symbolic gesture of peace for Ukraine – they were set upon by a seagull and a crow.
Eventually both doves flew off, seemingly uninjured.
A similar incident occurred in 2013, when one of the doves was set upon by a gull.
The previous year, the doves simply flew back into the Vatican's apartments.