With high-profile launches for the new Renault Zoe and Opel Ampera-e, the ongoing Paris Motor Show is proof that affordable electric cars capable of travelling hundreds of miles between charges are very nearly here. But difficult questions continue to surround each manufacturer's plans for recharging and when a standard high-speed charging network will appear.
Now, Porsche and the rest of the VW group want to make progress by building a high-speed charging network available to everyone. Porsche boss Oliver Blume says the chargers his company is currently working on are compatible, after fitting an adapter, with Teslas.
Speaking to Top Gear at the motor show, Blume said: "We are in contact with other manufacturers and suppliers around the world to build a fast-charging network. Everybody has the same need. It sounds easy but getting the details agreed is hard. We already have the clear technical concept. It can even work with Teslas, with an adapter."
Porsche is planning to build a charging network to power its upcoming "Mission E" electric sports car, which it hopes to have on sale, complete with its own charging network, before the end of the decade. Due to its large batteries, the car will require a similar charging network to the so-called Superchargers offered by Tesla and used exclusively to recharge its Model S and Model X cars.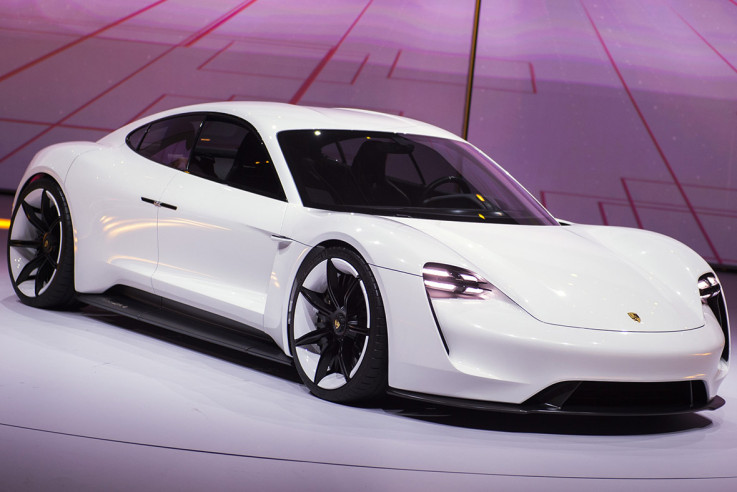 The electric Porsche Mission E concept car will go on sale by 2020
Odd Andersen/AFP
These chargers are around twice as powerful as those available to other electric car drivers, whose vehicles have smaller batteries, shorter ranges and are therefore less dependant on high-power chargers. The chargers Porsche has in mind will give 250 miles of range to the Mission E in just 15 minutes; the car is set to have a total range of over 300 miles and accelerate to 60mph in 3.5 seconds.
Also speaking to Top Gear, Mercedes boss Dieter Zetsche said his company was "in talks" with Porsche and owner VW about working together on a charging network. Mercedes used the Paris show to reveal EQ, an electric car chassis which will become the platform for a whole range of upcoming vehicles.
But, Zetsche added: "The next question is do we co-operate on building power stations?" With the answer likely to be "no", it seems unlikely that Mercedes is interesting in paying for any more of the infrastructure beyond the charging stations themselves.
VW, which owns Audi, Bentley, Bugatti, Lamborghini, Porsche, Seat, Skoda and Volkswagen, is starting to invest heavily in electric. The Volkswagen ID concept car revealed at the Paris show is an indication of what future, all-electric Golf hatchbacks will look like, produced by a company looking to take a greener road away from the diesel emissions scandal of 2015.