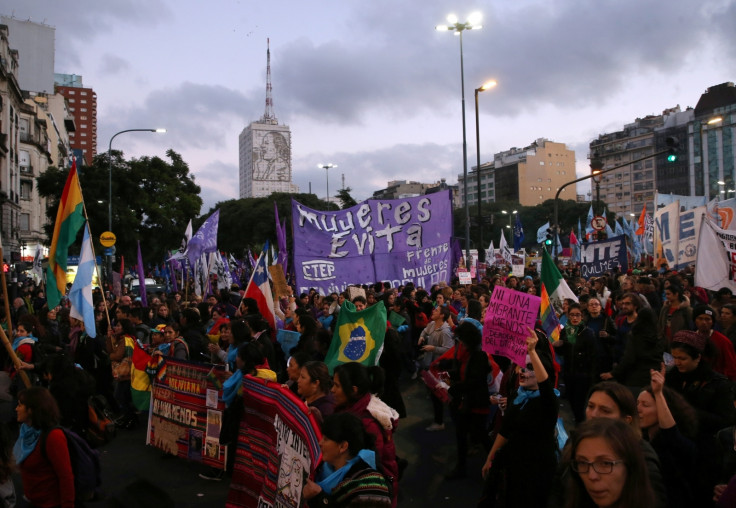 A 26-year-old pregnant woman in Argentina was stabbed to death and burned in a suspected satanic ritual.
Prosecutor Agustin Garcia said that Fernanda Pereyra was stabbed once in the chest and four times in the back. She was six months pregnant at the time of her murder.
The victim was then burned so badly, she could only be identified through her necklace, The Sun reported. Her ashes were discovered near Rincon de los Sauces, a city with a population of about 10,000.
Large amounts of gasoline were used to burn Pereyra's body, which was transported in a Renault Kangoo van. The van, which was recovered by authorities, appeared to be cleaned but had traces of the victim's blood and hair, prosecutors said.
Three suspects have been arrested in connection with the brutal 20 July murder: Pereyra's ex-boyfriend Luciano Hernandez and his two friends, Osvaldo Castillo and Diego Marillan. Sources told local news site Clarin that the suspects have drug trafficking links and practice satanism.
Investigators believe the victim was killed in a ritual for "San La Muerte (Saint Death)," the patron saint of drug traffickers and "Destranca Rua," which is connected to an Angolan satanic cult called "kimbanda".
Authorities found satanic music and images of the devil in the home where the suspects were found. All three men had tattoos which described links to the dark arts.
Police say the victim was killed because she got pregnant by a man other than her boyfriend. However, some investigators claim the murder was a warning to other citizens not to interfere with drug-dealing gangs, The Sun reported.
In 2016, Pereyra testified in the death of Franco Orellano, a teenager who was killed by a man believed to be involved in drug trafficking. After her testimony, Pereyra received frequent death threats, Clarin reported.
Judge Pablo Yancarelli ordered the three suspects remanded to jail for six months during the investigation.