South African border police are currently on "red alert" for Zimbabwe's First Lady Grace Mugabe fearing she may flee the country after allegations of assault, the police minister has said.
It is alleged the 52-year-old attacked a South African model with an extension cord in a hotel room near Johannesburg on Sunday (13 August).
The model, Gabriella Engels, posted a picture on Twitter showing a gash on her forehead and other pictures of bruises have emerged since the alleged attack.
Officers expected Grace Mugabe to turn herself in on Tuesday (14 August), but she failed to show up, although she is still believed to be in South Africa.
The first lady has requested diplomatic immunity over the alleged incident and the lawyer who prosecuted Oscar Pistorius, Gerrie Nel, said the model was offered money by a third party to settle the case out-of-court.
Police Minister Fikile Mbalula said according to BBC News: "We, in terms of South African police, [have] already put tabs on the borders in relation to her leaving the country, so there is no question about that.
"So tabs have been put, a red alert has been put, so she is not somebody who has been running away."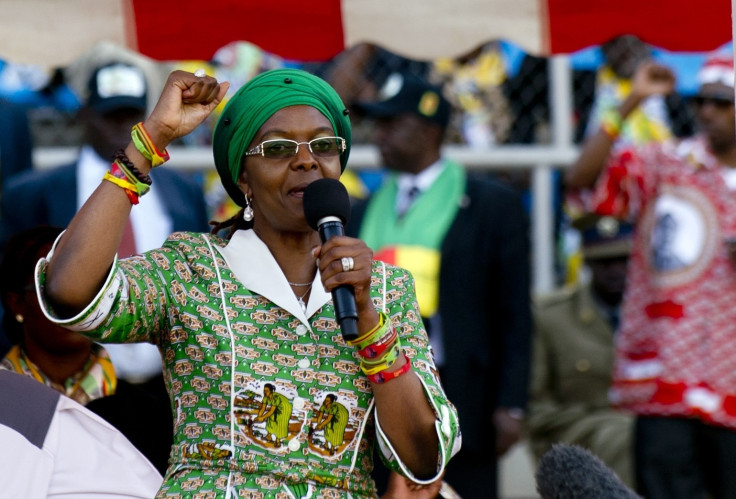 The model claims she was in a hotel room with two of her friends and Mugabe's two sons, Robert Jnr, 25, and Chatunga Bellarmine, 21, at a party.
The two men, who have a reputation for partying, left the room as Mugabe launched into her attack, said Engels, whilst she was surrounded by more than ten bodyguards, who stood watching.
Engels, wearing large white dressings on her head, and Nel appeared at a press conference on Thursday (17 August).
Nel told of the offer to make the case "go away" which was made through a third party, but added that no amount was mentioned.
"From our point of view," said Nel. "We would expect at least a trial or action within three months."
Nel added that investigating officer told the Engels family, including her outspoken mother Debbie, that the force will now apply for a warrant for Grace Mugabe's arrest.
Her 94-year-old husband Robert Mugabe is currently in South Africa ahead of a regional summit of African leaders.